Off-Season Watch: Oilers willing to pay to move Lucic?
Track the latest news and rumours around the NHL with TSN.ca's Off-Season Watch. In Friday's roundup, what the Oilers are willing to do move Milan Lucic, a free agency need for the Blues and an update on Ian Cole's future with the Blue Jackets.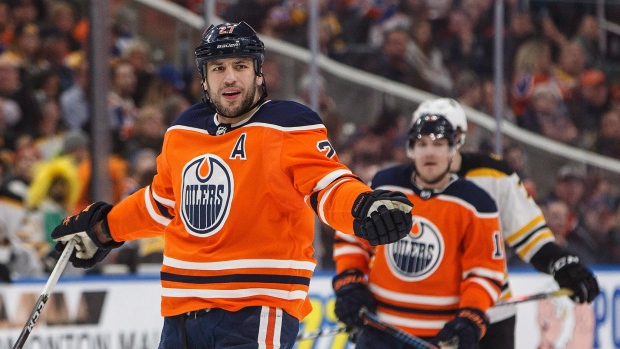 Each day through the NHL Draft on June 22 and up until free agency on July 1, TSN.ca breaks down the latest news and rumours around the NHL.

Sweetening the Pot?
Milan Lucic was listed at No. 18 on TSN Hockey's first Trade Bait board of the off-season and TSN Senior Hockey Reporter Frank Seravalli reports the Edmonton Oilers are willing to "sweeten the pot" to move the winger.
"My understanding, and the reason that Milan Lucic is on our (Trade Bait) list, is from my understanding they're trying and talking to teams about potentially taking another contract back - even if that means sweetening the pot with a pick or some other roster player in order to make it happen - they're pushing, or at least doing their due diligence and working to move on from Milan Lucic if they can," Seravalli told TSN Radio 1260 in Edmonton on Thursday. "I just don't know if it's going to happen with that much term left, it's going to be a really tough one to do."
Lucic finished this season with 10 goals and 24 assists, his lowest output over a full season since the 27 points he amassed with the Boston Bruins in 2007-08. He has five seasons remaining on his contract at a $6 million cap hit and owns a full no-move clause through the 2020-21 season.
He said in April he needed to find his confidence next season in order to produce to usual standards.
"Since Christmas time, I haven't been playing with a lot of confidence," Lucic said. "I think I just need to find that again because it's not like I'm old. I turn 30 in two months from now and feel like I still have a lot to give."
At 6'1 and 235 pounds, it's no secret that Lucic has struggled at times with the pace of the current NHL, something that he admits himself.
"With me, it's about trying to get with the times and adjusting to the way the league's going," Lucic said.
---
Centre Blues
St. Louis Blues general manager Doug Armstrong is looking for help at centre when free agency opens on July 1.
Armstrong told Mike Zeisberger of NHL.com that the team created a need when they traded pending free agent Paul Stastny to the Winnipeg Jets at the trade deadline and he'd prefer not to fill it with rookie Robert Thomas next season.
"Obviously we traded Stastny at the [NHL Trade Deadline]. We have Brayden Schenn there [at centre]. We have Robert Thomas there, but is he ready to enter prime time as a second-line centre? That's a large chore to ask for a 19-year-old," Armstrong said the scouting combine." Probably adding to our depth in the middle would be a goal.
"Alexander Steen has played centre before, Robby Fabbri has played centre before, Jaden Schwartz has played centre before, so if we have to circle back in, and the players we're looking at don't hit free agency or choose different paths, we'd have to adjust to that. But I would say center ice would be an area we'd look to do something in. But like we are at the Draft, in free agency we're always looking at good players."
The Blues have $62 million in salary committed towards the cap for next season and Armstrong said he has the green light from ownership to spend to the ceiling, which is projected to be $78 million-$82 million.
Frank Seravalli listed John Tavares (No. 1 overall), Stastny (No. 4), Tyler Bozak (No. 7), Riley Nash (No. 14) and Derek Ryan (No. 15) as the top five free agent centres in this year's class.
Stastny said last month he wouldn't rule out a return to St. Louis as a free agent this summer.
"I don't think I've closed the door on anything," Stastny told 590 The Fan in St. Louis on May 25. "I know it's a business; getting older, you see it.
"I always keep everything open because you never know what's going to happen."
---

Sticking Around?
Defenceman Ian Cole was traded from the Pittsburgh Penguins to the Ottawa Senators (for three days) and then to the Columbus Blue Jackets in February to play out the final months of his expiring contract.
Cole, who spent time as a healthy scratch in Pittsburgh before the trade, played in 20 games with the Blue Jackets and told The Athletic he's willing to extend his time with the team, for "the right offer."
The 29-year-old said the team and his agent have had multiple conversations regarding an extension, but he has to weigh their offer against hitting the open market on July 1.
"It's a tough question," Cole said. "As a player, you really look forward to this unrestricted free agency status.
"However, I'm not opposed to signing something before (July 1). It has to be the right situation and the right factors, certainly, but it's not something I'm dead set against. I'm certainly open to a lot of things at this point."
Aaron Portzline of The Athletic believes pending Columbus free agents Matt Calvert, Mark Letestu, Jack Johnson and Thomas Vanek will all hit the open market on July 1.