Perron slips down 2018 Free Agent Frenzy list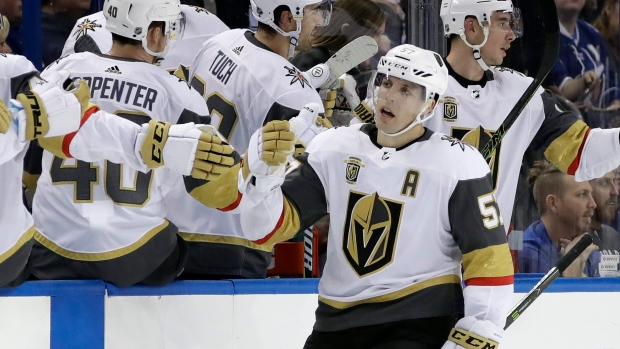 The Free Agent Frenzy class of 2018 is a three-headed monster, stacked with impact players John Tavares, John Carlson and James van Riemsdyk at the top – potentially making this group one of the most powerful in years.
The only question is: Will it remain that way up until Canada Day?
The list remains mostly consistent from when TSN Senior Hockey Writer Frank Seravalli unveiled the first in a series of Top 50 lists on May 31. The most notable change is Vegas Golden Knights forward David Perron, who slid from No. 8 down to No. 10. Perron was a healthy scratch in Game 4 of the Stanley Cup Final after struggling to find the back of the net throughout the post-season, finishing with one goal in 15 games after netting 16 in 70 regular season contests. Here is the updated Top 10 UFA list, with the full 50 dropping Thursday on TSN.ca.
Top 10 UFAs
| Player | Team | Pos | Age | GP | G | PTS | 17-18 |
| --- | --- | --- | --- | --- | --- | --- | --- |
| 1. John Tavares | NYI | C | 27 | 82 | 37 | 84 | $5.5M |
| 2. John Carlson | WSH | RD | 28 | 82 | 15 | 68 | $3.96M |
| 3. James van Riemsdyk | TOR | LW | 29 | 81 | 36 | 54 | $4.25M |
| 4. Paul Stastny | WPG | C | 32 | 82 | 16 | 53 | $7M |
| 5. James Neal | VGK | LW | 30 | 71 | 25 | 44 | $5M |
| 6. Ilya Kovalchuk | KHL | LW | 35 | 53 | 31 | 63 | *$5.5M |
| 7. Mike Green | DET | RD | 32 | 66 | 8 | 33 | $6M |
| 8. Tyler Bozak | TOR | C | 32 | 81 | 11 | 43 | $4.2M |
| 9. Rick Nash | BOS | LW | 33 | 71 | 21 | 34 | $7.8M |
| 10. David Perron | VGK | RW | 30 | 70 | 16 | 66 | $3.75M |
*KHL Salary