Pettersson's five points steal the show as Canucks edge Avs in OT
Rookie Elias Pettersson had two goals three assists and Derek Pouliot scored with less than 30 seconds to go in overtime, giving the Vancouver Canucks a 7-6 win over the Colorado Avalanche on Friday. Brock Boeser scored twice in the victory. Loui Ericksson and Markus Granlund rounded out the offence for Vancouver (9-6-0).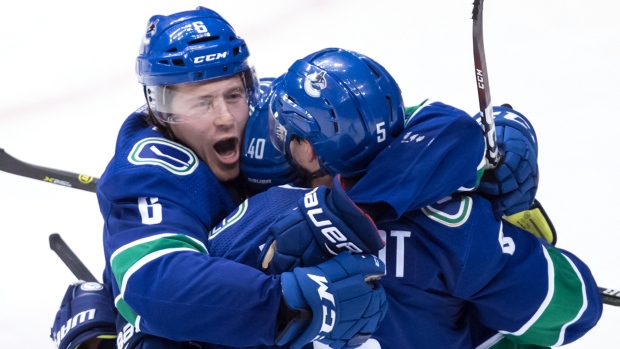 VANCOUVER — Elias Pettersson's teammates couldn't quite find the words to describe how the Vancouver Canucks rookie played on Friday night.
The 19-year-old had two goals and three assists for the Canucks in a heart-racing 7-6 overtime win over the Colorado Avalanche.
"Wow," Vancouver's Bo Horvat said when asked about Pettersson's performance.
But the Swedish centre downplayed what was perhaps his most impressive performance of the night — a jaw-dropping bank pass along the end boards that put the puck on the tape of Brock Boeser's stick, setting the right winger up for a goal.
"I was just trying to make a play and it worked out," said Pettersson, who's now the youngest player in Canucks history to record five-plus points in a regular-season game.
The play was simply the latest in a string of highlight-reel worthy moves that earned the teen the NHL's rookie of the month nod for October.
Canucks coach Travis Green said he wasn't sure how to describe the way Pettersson has played through nine NHL games.
"We knew he was supposed to be a pretty good player. And he's been all of that," he said.
But Vancouver goalie Jacob Markstrom said there's one area in which the young man has yet to be tested.
"He hasn't cooked yet. I'm not sure about his cooking skills but he's a pretty good player," Markstrom said.
Pettersson's third assist on Friday came on Derrick Pouliot's overtime winner with less than 30 seconds to go in overtime. His second goal came in the final minute of regulation to force extra time.
"I got goosebumps when we tied the game late," Pettersson said.
The game saw Vancouver (9-6-0) and Colorado (7-4-3) repeatedly trade the lead, bringing the crowd of more than 18,300 to their feet several times.
Boeser scored twice in the victory. Loui Eriksson and Markus Granlund rounded out the Canucks' offence.
Nathan MacKinnon found the net twice for Colorado, while Sheldon Dries, Ian Cole, Alexander Kerfoot and Nikita Zadorov all scored one each.
NHL points leader Mikko Rantanen registered a trio of assists for the Avs.
Jacob Markstrom stopped 23-of-29 shots for Vancouver as Colorado goalie Philipp Grubauer turned away 30-of-37 shots.
The game was the second in a back-to-back road trip for the Avs. They dropped a 6-5 decision in Calgary on Thursday, despite being up 4-1 in the third period.
"It's been a weird seven periods," Grubauer said after Friday's match up. "It wasn't the best road trip, to be sure. We'll need to keep working, if we're smart as a team we'll learn from this road trip, learn from our mistakes."
Green said after the game that he wasn't about to complain about any mistakes his team may have made.
"Wow. What a night. Seems like a lot of ups and downs. That was a fun game to coach," he said.
"That was a hell of a win."
The victory — the third in a row for the Canucks — shows the squad's ability to bounce back this season, Markstrom said
"Our young players are really confident in themselves and it wears off on other players, too," the goalie said.
"Even though we're down by one with a minute left, they're confident that they're going to score and they go to the net. And that's that."
Next up, the Canucks will head out on a six-game road trip, starting with a visit to the Detroit Red Wings on Tuesday.
---
NOTES: Four players tallied their first goals of the season on Friday. Nikita Zadorov and Ian Cole for the Avs, and Loui Eriksson and Derrick Pouliot for the Canucks. ... Vancouver rookie Elias Pettersson now has nine goals and six assists in nine games. He's the 16th player in the league to score nine or more goals through the first nine games of his career, and just the sixth to complete the feat outside of the league's inaugral season. ... High-scoring games have become a bit of a habit for the Avs this year. Colorado now leads the league in goals for with 52.