Report: Kovalchuk plots NHL return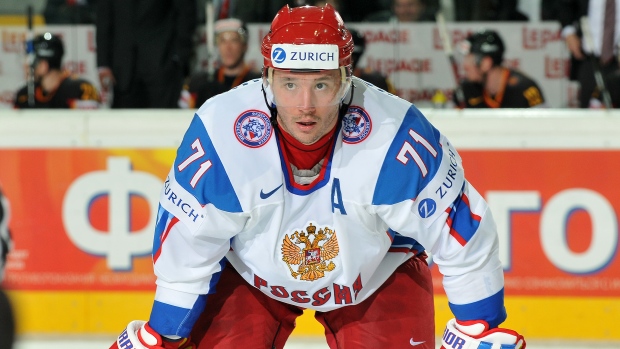 He hasn't played in the NHL since 2013, but Ilya Kovalchuk could be on his way back.
Russian journalist Igor Eronko reports that not only has Kovalchuk said he intends to return to the NHL, he wants to play for two or three more seasons.
When Kovalchuk retired in June of 2013 as a member of the New Jersey Devils, he had 12 years and $77 million remaining on a mammoth 15-year deal signed in 2010. By being placed on the voluntary retirement list, Kovalchuk's rights would be retained by the Devils until he turns 35 years of age, which will happen on April 15. Should he return to the NHL, then, he would be considered an unrestricted free agent.
There was talk that Kovalchuk was interested in a return last summer, but an inability for the Devils to find a trade partner for him scuppered that.
After leaving the NHL, Kovalchuk joined the Kontinental Hockey League's SKA St. Petersburg for whom he played the last five seasons.
In 55 games this year for the team, Kovalchuk scored 33 goals and added 32 assists. He was a member of the gold medal-winning Olympic Athletes from Russia entry at the Pyeongchang Winter Games in February.
Kovalchuk appeared in 816 career NHL games over 11 seasons with the Atlanta Thrashers and Devils. The first overall pick in the 2001 NHL Entry Draft notched 417 goals and 399 assists and was a joint recepient of the 2004 Maurice "Rocket" Richard Trophy as the league's top goal scorer alongside Rick Nash and Jarome Iginla when the trio each potted 41 goals.