Report: Wings set high price for pending UFAs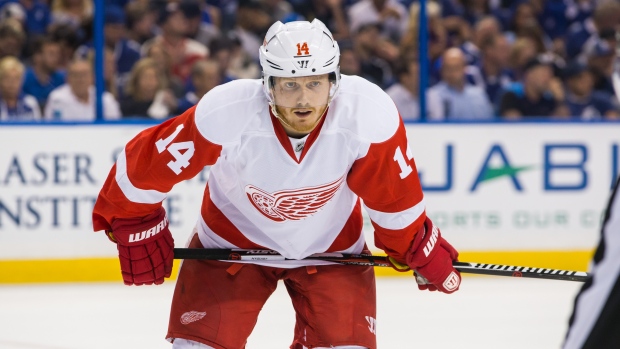 According to Ansar Khan of Michigan Live, the Detroit Red Wings are asking for a first-round pick in exchange for either forward Gustav Nyquist or goaltender Jimmy Howard ahead of the trade deadline.
Nyquist and Howard – both pending unrestricted free agents – are ranked No. 8 and No. 9, respectively, on the TSN Trade Bait board. Khan adds, however, that the Red Wings do not expect their price to be matched on either player and will instead look to sign both to extensions over the next month.
Howard, 34, has a 13-12-5 record this season with a .917 save percentage and a 2.71 goals-against average. He carries a $5.29 million cap hit and will attend his second career All-Star Game this month.
While Khan reports the Red Wings decided "long ago" they wanted to re-sign Howard, he notes their interest in bringing back Nyquist is relatively new.
The 29-year-old winger has 11 goals and 40 points in 48 games this season while averaging just under 18 minutes of ice time per game. He has spent his entire career with Detroit since being drafted by the team in 2008 and is currently second on the Red Wings in points this season.
Khan believes that Nyquist, who carries a $4.75 million cap hit this season, will command a salary above $5 million on his next deal.
The Red Wings have four other pending unrestricted free agents in Niklas Kronwall, who Khan reports the team has decided not to trade, Thomas Vanek, Nick Jensen and Luke Witkowski.
Detroit (18-23-7) is 13 points back of the Pittsburgh Penguins for the final wild-card spot in the Eastern Conference.