Sens don't plan to sit Duchene or Stone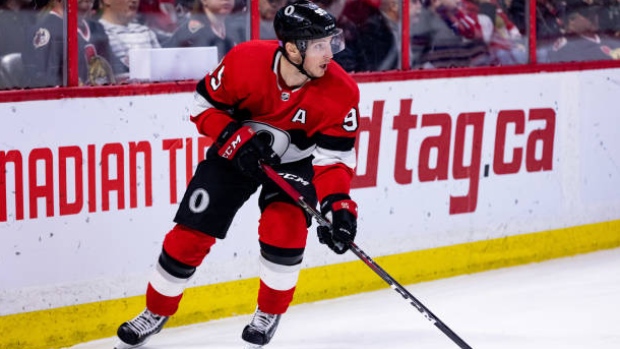 The Ottawa Senators are not expected to sit pending unrestricted free agents Mark Stone, Matt Duchene or Ryan Dzingel in their games this week leading up to the trade deadline, TSN Hockey Insider Darren Dreger reports.
According to Dreger, all three forwards are expected to dress against the Chicago Blackhawks on Tuesday and in their back-to-back games on Thursday and Friday against the New Jersey Devils and Columbus Blue Jackets.
Senators head coach Guy Boucher said the decision on whether players would rest ahead of the deadline was not up to him.
"I'm coaching, that's not for me," Boucher said Monday. "I'm coaching and all our best players are going to be on the ice, because I'm a coach. The rest is not for me."
Dreger reported Sunday that, barring a last-minute change, Duchene is expected to be traded by the Senators ahead of the deadline. He added the team has turned their focus to re-signing Stone, though his future should be determined in the coming days as well.
Dzingel, who sits third among Senators forwards in points behind Stone and Duchene, is also believed to be drawing interest on the trade market.
Dreger told TSN Radio 1050 Toronto on Monday that it's becoming an increasing reality that both Duchene and Stone could be traded at the deadline.
"They don't feel, given everything they've got coming and what they have in youth on their existing NHL roster, that they're that far away from flipping the switch from a rebuild into a real competitive team, and then again not that far away from being a playoff-worthy team," Dreger said of the Senators. "Now is that two years, is it three years? Melnyk says that he's going to start spending to the cap in 2021. Well, I'll believe it when I see it, and I think that's kind of the way that most – even those employed by the Ottawa Senators – look at it.
"I can tell you that the focus right now is on Mark Stone. As far as Matt Duchene is concerned, I think he's getting traded. Unless there's a last-second change here where Mark Stone comes out today or tomorrow - I think today's a game day, so he probably wouldn't do it today - and says, 'Look, I'm not signing. I understand. If you want to trade me, trade me, but I'm not signing.'
"If that happens, and I expect it'll happen between now and Wednesday where he's got to define his direction of 'I'm signing' or 'I'm not,' then that shifts.
"And then maybe if he says, 'I'm not signing,' he goes back to Duchene and says, 'Okay, we've had 50 conversations, but we haven't really negotiated yet. I need you to tell me if you're willing to do that Matt Duchene.'
"If the answer is no, then they both go. And there are many around the NHL that see that's more likely to be the case, that both guys go."
The Senators sit last in the NHL with 49 points in 58 games this season.