Sens select Tkachuk 4th, Bernard-Docker 26th
The Ottawa Senators have selected Brady Tkachuk with the fourth overall pick in the NHL draft. The 18-year-old winger from Scottsdale, Ariz., had eight goals and 23 assists in 40 games during his freshman 2017-18 season at Boston University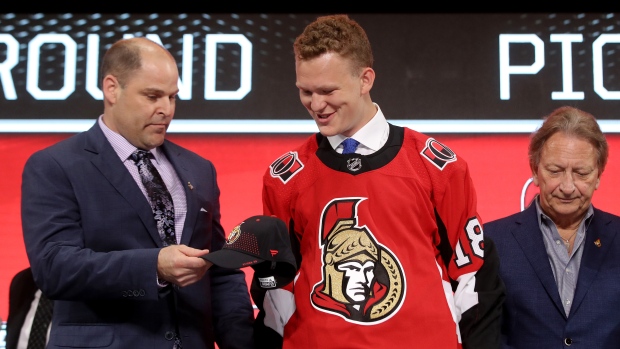 DALLAS — Brady Tkachuk earned some family bragging rights Friday.
The Ottawa Senators selected the 18-year-old winger with the fourth overall pick in the NHL draft, two spots higher than older brother Matthew went to the Calgary Flames in 2016.
He also bested their father, Keith Tkachuk, who was the 19th selection of the Winnipeg Jets in 1990.
"The weight is off my shoulders now," Brady Tkachuk joked. "(Matthew) will definitely hear about it later."
The Scottsdale, Ariz., native had eight goals and 23 assists in 40 games during his freshman 2017-18 season at Boston University, helping the school to a Hockey East title while being named to the all-rookie team.
"I'm super happy right now," Tkachuk said. "Super excited to celebrate this with my family and friends."
The six-foot-three, 192-pound forward said recent negative headlines coming out of Ottawa, including cyberbullying allegations made by the wife of captain Erik Karlsson against the fiancee of former teammate Mike Hoffman, didn't deter him from wanting to go to the nation's capital.
Hoffman was traded to the San Jose Sharks on Tuesday. The Sharks in turn flipped the talented winger to the Florida Panthers a few hours later.
Tkachuk knows Senators forward Colin White and grew up in St. Louis with Ottawa prospect Logan Brown.
"I know it's run by great management," Tkachuk said. "I know there's great guys in the locker room."
Keith Tkachuk said he had a brief discussion with Senators general manager Pierre Dorion before the draft about the controversy.
"It wasn't great, the stuff coming out," said the elder Tkachuk. "But the people in there are going to straighten things out. Brady's a character kid. Stuff like that won't bother him. Hopefully down the road when he's ready to play everything will be good.
"It's a business. (Dorion's) got to do what's best for his franchise. We're going to do what's best for Brady, but overall we're really happy."
Brady Tkachuk said he wants to make the NHL next season, but added there's a chance he could return to Boston University.
"I'm just looking at the long run," he said. "I want to have a long career. I don't want to rush anything, but I definitely feel like I can be ready.
"That's a discussion for the next couple days."
The Senators also had the 22nd pick, but traded it to the New York Rangers for the No. 26 selection as well as the No. 48 overall pick in Saturday's second round.
Ottawa selected defenceman Jacob Bernard-Docker with the 26th pick.
The NHL Central Scouting Bureau's No. 2-ranked North American skater, Tkachuk had three goals and six assists to finish fifth in tournament scoring at the 2018 world junior hockey championship for the United States, which won bronze on home soil.
Tkachuk, who is still growing, has both physical and play-making components to his skill set, much like his father and brother. He was impressed with the organization during his visit to Ottawa.
"They're run by great management," Tkachuk said. "There's great facilities. I was super happy leaving there, and that was definitely a spot I wanted to go to."
Keith Tkachuk scored 538 goals and added 527 assists in 1,201 games over 19 NHL seasons with the Jets, Phoenix Coyotes, St. Louis Blues and Atlanta Thrashers.
Matthew Tkachuk, 20, is set to enter his third season with Calgary. The sixth pick in 2016 has 37 goals and 60 assists in 144 career games.
"I was shaking a bit because I was so excited," Brady Tkachuk said of the lead up to the fourth pick. "I was kind of nervous going on the stage. I didn't want to trip on the steps or anything like that.
"When I got up there it was surreal. It was a dream come true."
___
Follow @JClipperton_CP on Twitter