'Tagging' rule holding up Silfverberg contract
The Anaheim Ducks have been busy in the trade market this season, but, according to TSN Hockey Insider Darren Dreger, it appears pending free agent Jakob Silfverberg will be sticking around past the deadline. Dreger points out, however, that the team will likely have to wait until after Feb. 25 to sign the 28-year-old due to a cap issue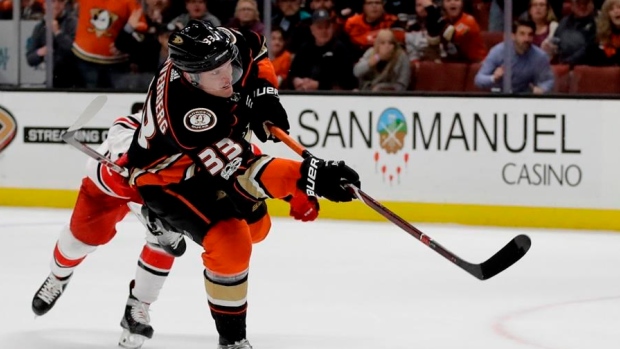 The Anaheim Ducks have been busy in the trade market this season, but, according to TSN Hockey Insider Darren Dreger, it appears pending free agent Jakob Silfverberg will be sticking around past the deadline.
Dreger points out that the team will likely have to wait until after Feb. 25 to sign the 28-year-old due to a cap issue, but the two sides are closing on an extension.
"It doesn't seem possible that they would consider trading him at this point," Dreger said of the Ducks on Insider Trading Tuesday. "They've gone well down the road to getting him extended. It's not quite finished yet, it's more of a cap-management issue because they have tagging issues. They've had over 100 roster moves this season alone, which eats up tagging space to some degree. They are over the cap, so you'd have to subtract that from your tagging space. You've got Patrick Eaves on waivers. If he gets claimed, then that might free things up a little bit for the Anaheim Ducks.
"Otherwise, they're likely going to have to wait to get it official on March 1, when every team gets a 10 per cent bump in the tagging space."
The Tagging rule states a team can't spend more on a future payroll than they currently have on their own and, as Dreger notes, teams lose space by going over the cap in the current year.
"Until such time as the Club has or makes Payroll Room in the current year in excess of such Tagged Payroll Room, the Club may not engage in any Player transactions requiring Payroll Room, including but not limited to, acquiring an SPC or 'extending' or entering into a new SPC," the league's collective bargaining agreement rule reads.
Using space from having Ondrej Kase on long-term injured reserve, the Ducks currently have a salary of $80.61 million this season - $1.16 million over the $79.5 million cap, per CapFriendly. The team already has $72.85 million committed in salary for next season, currently leaving them with $6.65 million in space, minus the overage, for this year and transaction costs.
As Dreger noted, the team could free $3.15 million off of next year's payroll if Eaves is claimed off of waivers on Wednesday.
Silfverberg, who has 16 goals and 24 points in 51 games this season, carries a $3.75 million cap hit this season, the last of a four-year, $15 million contract signed in 2015 as a restricted free agent.