TSN Follows Toronto FC's Complete Run Through the 2018 CONCACAF Champions League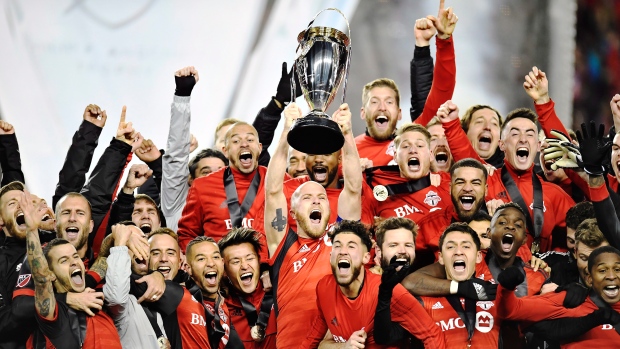 The 2017 MLS CUP champions, Toronto FC, begin their chase for another championship title during the CONCACAF CHAMPIONS LEAGUE (CCL) – and TSN has fans covered as the network follows the team throughout the tournament. Toronto aims to become the first Canadian team to win the CCL as they kick off the tournament live from Dick's Sporting Goods Park in Commerce City, Colorado with a match-up against the Colorado Rapids on Tuesday, Feb. 20 at 10 p.m. ET on TSN2. Toronto then brings it home to BMO Field on Tuesday, Feb. 27, with the decisive second leg at 8 p.m. ET on TSN1.
Delivering the call for the Toronto FC vs. Colorado Rapids Round of 16 series are play-by-play commentator Luke Wileman and analyst Steven Caldwell. First leg coverage of the CONCACAF CHAMPIONS LEAGUE features TSN's Kelcey Brade, Kristian Jack, and Terry Dunfield on the panel, with Jack also reporting live from the sidelines for the second leg game at BMO Field.
Toronto FC begins their CONCACAF CHAMPIONS LEAGUE season after a 2017 trophy haul that saw the club capture their first MLS Cup and sixth Canadian Championship, as well as achieving a record-setting season point total in the MLS.
TSN provides fans with coverage of every Toronto FC match in the tournament, including the quarterfinal against the Liga MX team, Tigres UANL, and the semifinal against Club América. As TFC head into the CONCACAF CHAMPIONS LEAGUE final against Chivas Guadalajra, Canada's Sports Leader broadcasts the final two games with Leg 1 on Tuesday, April 17 at 8:30 p.m. ET on TSN2 and the decisive Leg 2 on Wednesday, April 25 at 9:30 p.m. ET on TSN2.
TSN subscribers can access live streaming and on-demand viewing of the network's exclusive live coverage of the CONCACAF CHAMPIONS LEAGUE via TSN.ca/Live and the TSN GO app.