TSN FREE AGENT FRENZY Provides Wall-to-Wall Coverage of NHL Free Agency
TSN's industry-leading team of Hockey Insiders and analysts break down key signings throughout the six-hour TSN FREE AGENT FRENZY special, Saturday, July 1 beginning at 11 a.m. ET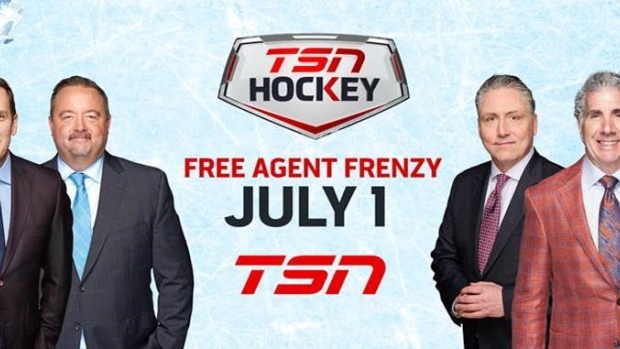 TORONTO (June 29, 2023) – The nation's favourite Canada Day hockey tradition returns as Canada's Sports Leader delivers TSN FREE AGENT FRENZY, airing Saturday, July 1 beginning at 11 a.m. ET on TSN, TSN.ca, and the TSN app, with French-language coverage available on RDS. The six-hour TSN FREE AGENT FRENZY special has become a summertime staple for hockey fans, as the network's Hockey Insiders and analysts break down all of the key signings throughout the day.
Leading up to and throughout the special, TSN.ca provides updates with daily off-season blogs, reporting on all the latest news on the top free agents, as well as a signing tracker, trade tracker, video analysis, and player interviews.
Beyond TSN FREE AGENT FRENZY on July 1 and throughout the summer, SPORTSCENTRE, TSN.ca, and the TSN app are the prime destinations for breaking free agent signings as well as trades from around the league.
Broadcast Team
Host James Duthie once again leads the TSN FREE AGENT FRENZY crew of Hockey Insiders, analysts, and reporters. Throughout the day, the TSN Hockey all-star team keeps viewers updated on breaking news, provides expert analysis, and delivers live interviews with players, coaches, and GMs.
The TSN FREE AGENT FRENZY broadcast team includes:
TSN's BarDown team delivers video reactions to free agent signings, and rounds up all the social media highlights and content throughout Free Agency.
FanDuel is integrated throughout the TSN FREE AGENT FRENZY special, incorporating timely odds and statistics into TSN's expert analysis to help provide context on the biggest transactions of the day, with segments including Strength in Numbers powered by FanDuel featuring TSN's Hockey Analytics expert Meghan Chayka, and Mystic Mike powered by FanDuel featuring TSN Hockey analyst Mike Johnson.
In-depth news and analysis of all the free agency action is also available on TSN Radio, and live streaming at TSN.ca, the TSN app, iHeartRadio.ca, and the iHeartRadio Canada app.