TSN's Top 50 Blue Jays Prospects: 10-1
Scott Mitchell reveals his top 10 prospects in Toronto's farm system in the final installment of his top 50 Blue Jays Prospects series.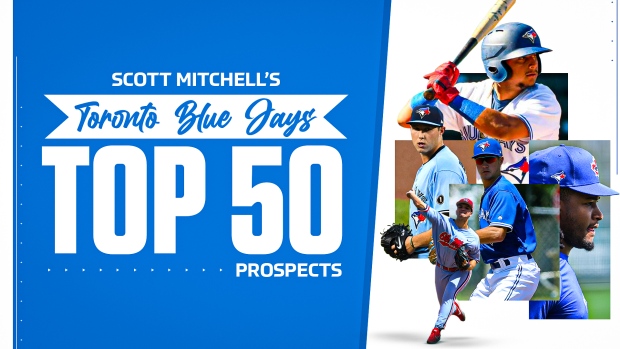 By: Scott Mitchell
After taking a look at prospects 50 through 31 on Monday and 30 through 11 on Wednesday, we wrap up today with the top 10.
We'll start with a quick rundown of how the system breaks down, as well as the changes from last year's list.
TOP 50 BY POSITION
Catchers: 4
Corner infielders: 6
Middle infielders: 9
Outfielders: 11
Pitchers: 20
HOW THEY WERE ACQUIRED
Trade: 2
MLB Draft: 23
International free agency: 23
Rule 5 Draft: 1
Undrafted free agent: 1
GRADUATED (3):
5—C Alejandro Kirk
8—RHP Alek Manoah
13—RHP Julian Merryweather
GONE (7):
2—CF/SS Austin Martin (traded to MIN for Jose Berríos)
7—RHP Simeon Woods Richardson (traded to MIN for Jose Berríos)
16—C Riley Adams (traded to WSH for Brad Hand)
26—RHP Patrick Murphy (claimed off waivers by WSH)
27—RHP T.J. Zeuch (traded to STL for cash)
36—RHP Curtis Taylor (selected by WSH in MiLB rule 5 draft)
45—C Javier D'Orazio (traded to ARZ for Joakim Soria)
FELL OFF (12)
32—1B/3B Peniel Brito
33—LHP Nick Allgeyer
34—RHP Elvis Luciano
35—RHP Jackson Rees
39—RHP Maximo Castillo
40—RHP Winder Garcia
41—RHP Roither Hernandez
42—LHP Naswell Paulino
43—RHP Alejandro Melean
44—RHP Edisson Gonzalez
47—C Philip Clarke
49—SS Martin Giménez
AFFILIATE LEVELS
Triple-A East: Buffalo Bisons
Double-A Northeast: New Hampshire Fisher-Cats
High-A West: Vancouver Canadians
Low-A Southeast: Dunedin Blue Jays
Florida Complex League: FCL Blue Jays
Dominican Summer League: DSL Blue Jays

LAST YEAR'S RANK

20

2020 Rank

28

2022 AGE

21

ACQUIRED

2017 IFA
Expected starting affiliate: High-A Vancouver
YEAR IN REVIEW: Jimenez produced one of the quirkiest statistical lines you're ever going to see in 2021, slashing .320/.523/.392 to sit top five in on-base percentage in the entire minor leagues thanks to walking more than he struck out and somehow managing to get hit with 25 pitches in 59 games. Defensively, Jimenez is slick. While the arm isn't elite, Jimenez's glove is the calling card, with an ability to slow the game down and make all the plays at either middle infield spot. Despite spending the entire year at Low-A Dunedin, Jimenez ended his season as one of the youngest players in the Arizona Fall League, where he once again put up a gaudy .412 on-base mark in 15 games. The Jays added him to the 40-man roster in November.
OUTLOOK: With an innate ability to find his way to first base and elite bat-to-ball skills, Jimenez possesses a big-league floor, but his ultimate offensive upside hinges on the ability to add some power to his game. Many believe it's coming, and it's easy to see why when you see Jimenez up close. Listed at 5-foot-11, 160 pounds, Jimenez has extremely broad shoulders and BP sessions uncover some added thump in his right-handed bat. Right now, it's a very Santiago Espinal-ish profile. That's a quietly valuable player.
MLB ETA: 2024

LAST YEAR'S RANK

18

2020 RANK

16

2022 AGE

25

ACQUIRED

2017 Draft
Expected starting affiliate: Triple-A Buffalo
YEAR IN REVIEW: Smith's prospect stock has been all over the map since he was drafted in the fourth round back in 2017. Following a breakout 2018 campaign that saw him crush 25 homers and steal 29 bases in A-ball, Smith sat at No. 5 overall on this list heading into 2019. But the wheels came off that year in his first taste of Double-A and a 32.3 per cent strikeout rate exposed swing-and-miss issues and led to a .209 batting average. Forgotten by many, Smith quietly reworked his swing and approach during the 2020 shutdown and bounced back with another breakout season, slashing .285/.370/.561 with 21 homers at Triple-A Buffalo to earn his first cup of coffee in the majors. Even though that didn't go well — three hits in 36 trips to the plate — Smith's season was nothing other than a huge success.
OUTLOOK: Perhaps the best indicators of Smith figuring some things out were the 11.2 per cent walk rate and 23.7 per cent K-rate he posted at the highest level of the minors last summer, leading to a career-best contract rate. Both of those marks represent significant steps forward for the right-handed hitting Smith, who will compete for a bench role in spring training. Smith won't wow anyone on defence, but he can capably play every infield spot and started seeing some time in the outfield last year. It'll be hard for Smith to carve out regular at-bats without an injury, so he'll have to continue to hit for power and take advantage of his opportunities. He could also be a trade candidate down the road.
MLB ETA: Debuted in 2021

LAST YEAR'S RANK

12

2020 RANK

27

2022 AGE

23

ACQUIRED

2016 IFA
Expected starting affiliate: Triple-A Buffalo
YEAR IN REVIEW: Lopez is a well-rounded player with a compact swing who has hit for average every step of the way. In 2019, he won the Low-A Midwest League batting title with a .324 average and emerged post-shutdown in 2021 doing more of the same, hitting .331 in 70 games at Double-A before a promotion to Triple-A where he put up a .289/.347/.405 slash line across 194 trips to the plate. He also earned his first big-league cameo, striking out in his only at-bat.
OUTLOOK: Born in the Dominican Republic and raised for a few years in Montreal, Lopez's value is going to be derived from his ability to hit for empty average, get on base and provide extreme versatility on defence at second base, outfield and even shortstop in a pinch. He's never going to hit for much power, but if you want to dream, Lopez could become the poor man's right-handed hitting version of Luis Arraez. Until he's needed on the big-league bench, Lopez will be part of an intriguing Triple-A infield alongside Kevin Smith, Jordan Groshans and, perhaps, Samad Taylor, with each player sharing time at a couple different spots.
MLB ETA: Debuted in 2021

LAST YEAR'S RANK

24

2020 RANK

50

2022 AGE

20

ACQUIRED

2019 IFA
Expected starting affiliate: High-A Vancouver
YEAR IN REVIEW: One of the most exciting pitching prospects in the organization, Robberse is already a success story in development for the Jays as an unheralded right-hander signed out of the Netherlands as a project three years ago. The velocity has slowly crept up into the lower-90s, touching 95, which helps accentuate his high-spin arsenal, which includes a couple different fastballs, a good breaking ball and developing changeup. Another prospect hurt in a big way by the missed reps in 2020, Robberse got better as the season went on at Low-A, posting a 3.90 ERA in Dunedin before he finished the year with seven starts as a 19-year-old in High-A.
OUTLOOK: The overall 4.36 ERA and 90 strikeouts across 88.2 total innings isn't going to wow anyone, and despite getting to High-A at a very young age, there's still a lot of development left. Mature beyond his years, Robberse is blessed with a silky smooth delivery and shown an aptitude to make changes stick. If he continues to add velocity and takes a step forward with the consistency of his secondary offerings, his prospect stock could blow up by this time next year.
MLB ETA: 2024

LAST YEAR'S RANK

Not in System

2020 RANK

Not in System

2022 AGE

19

ACQUIRED

2021 Draft
Expected starting affiliate: Low-A Dunedin
YEAR IN REVIEW: Taken in the third round last summer as an extremely young junior college lefty, Tiedemann was in the 89-93 mph pre-draft, but looked like a different pitcher when he showed up at instructional league at the fall. Three months after being selected, Tiedemann was sitting 95-96 mph, touching 98, and showing a couple of swing-and-miss secondary offerings. Batters legitimately struggled to make contact. It was the tiniest of sample sizes, but there's already a ton of helium surrounding the Long Beach lefty and he hasn't even made his pro debut yet.
OUTLOOK: The 6-foot-4, 200-pounder didn't test well physically pre-draft, but the Jays didn't see that as a blemish, they saw it as an opportunity. From working out with free weights in a SoCal garage, to a professional development program inside a shiny new complex in Dunedin, added strength and balance could help Tiedemann take off, and the early results are already encouraging. Tiedemann won't turn 20 until August, so the Jays will take it slow initially, letting him focus on the usual suspects for young pitchers: Fastball command, the changeup, and ironing out his delivery as he continues to add strength. With Nate Pearson graduating off this list in 2022, many are betting Tiedemann is the consensus top pitching prospect the Jays have by this time next year.
MLB ETA: 2024

LAST YEAR'S RANK

Not in System

2020 RANK

Not in System

2022 AGE

22

ACQUIRED

2021 Draft
Expected starting affiliate: Injured
YEAR IN REVIEW: Mentioned alongside Vanderbilt co-aces Jack Leiter and Kumar Rocker as a potential top-10 pick last year, Hoglund was cruising through the SEC during his junior season at Ole Miss before Tommy John interrupted things in May. Prior to that, Hoglund's stock was built on three traits: Command, consistency and build. Viewed as one of the most advanced college arms in the 2021 draft, the 6-foot-4 right-hander possesses a clean, repeatable delivery that scouts love and command of a three-pitch mix that features a mid-90s fastball and a bat-missing slider. With the Dunedin, Fla., native sidelined until sometime this summer, he slid to the 19th overall pick, where the Blue Jays were elated to buy low on a premier talent.
OUTLOOK: With a standard 12-14 month timeline in play, if everything goes smoothly Hoglund should be back on a mound in game action by July or so, giving him some time to shake the rust off in 2022. Even with the health setback, one of the reasons Hoglund was so attractive to the Jays was because of his potential to move quickly, and he could be a candidate to finish in the Arizona Fall League, which could put him on track to arrive in the second half of 2023 if he looks as polished as expected post-TJ.
MLB ETA: 2024

LAST YEAR'S RANK

3

2020 RANK

4

2022 AGE

22

ACQUIRED

2018 Draft
Expected starting affiliate: Triple-A Buffalo
YEAR IN REVIEW: There are two ways to view Groshans' 2021 season. If you simply look at the numbers on paper, you're going to be left wanting more if you had Groshans projected as an impact bat. But if you dig a little deeper and digest the context, the right-handed hitting Texan actually had a pretty decent age-21 season at Double-A, especially considering he had hardly played for two years thanks to a season-ending foot injury in 2019 and a pandemic. Groshans made a ton of contact, improved his swing decisions as the year went on, his coaches thought, and hit .291 against competition nearly three years older than him on average. So, what's the problem? For a prospect likely to spend most of his big-league time at third base, how much impact Groshans will ultimately have with the bat has slowly become the question for most that watched him. He did have 30 extra-base hits, but only seven went over the fence and his .158 isolated slugging percentage matched so-so exit velocities. But there's lots of good, too. Over 146 minor league games since being drafted in the first round, Groshans has posted a .372 on-base mark.
OUTLOOK: With all that being said, there's optimism Groshans' breakout could be coming in 2022 at Triple-A Buffalo, where the offensive environment will play a role. But the Jays believe the power is coming and a more aggressive mindset will help, as will some added strength for the 6-foot-3, 205-pound right-handed hitter. A well-rounded hitter with a good approach, Groshans isn't on the 40-man yet, but he's one call away now if the power starts to emerge.
MLB ETA: 2022

LAST YEAR'S RANK

1

2020 RANK

1

2022 AGE

25

ACQUIRED

2017 Draft
Expected starting affiliate: Triple-A Buffalo
YEAR IN REVIEW: After so much hype when he arrived in an empty Nationals Park in D.C. for his debut a year-and-a-half ago, Pearson, like so many top pitching prospects before him, has struggled to stay healthy and fulfill that lofty promise since. Here's the laundry list of injuries that have forced Pearson, who had a screw inserted into his pitching elbow in high school when a growth plate fractured, to miss time since being drafted five years ago: Back tightness, fractured forearm, elbow tightness, groin strain, sports hernia surgery. In his lone healthy season in 2019, Pearson looked dominant and in sync for a career-best 101.2 frames, but he's thrown just 63.2 innings total over the last two years. Pearson's 2021 season was mostly a lost cause, starting with a nagging groin strain in spring training that he never fully recovered from and eventually resulted in off-season sports hernia surgery. Handed a difficult start on the road in Houston in May, Pearson's command deserted him as he walked five batters and got just seven outs before the recurring groin issue sidelined him again. He was deemed healthy enough to as a reliever in September, finishing with 20 strikeouts across 12.2 innings and a 2.84 ERA down the stretch. Even at less than 100 per cent, Pearson looked electric out the bullpen, and his ultimate projection is slowly trending in that direction.
OUTLOOK: Pearson will be healthy for spring training and the Blue Jays are stretching him out as a starter. But GM Ross Atkins has already conceded there will be workload limits on 6-foot-6, 250-pound right-hander in 2022, which may lead to a hybrid role as the Jays try to get Pearson, who will turn 26 in August, up to around 100 innings. He could also spend time at Triple-A early in the season, trying to pitch deep into games and turn a lineup over three times. With the way pitching staffs are built these days, Pearson is likely to play a huge big-league role this season in a variety of situations, while trying to build an inning base that would allow him to return to the rotation in 2023. It's a pivotal year for Pearson, but even though he's shown his floor is that of a dominant, high-leverage reliever who's ready to contribute now, don't completely throw in the towel on a rotation future just yet. He may just have to take a bit of a winding road to get there.
MLB ETA: Debuted in 2020

2. 3B/SS Orelvis Martinez
2. 3B/SS Orelvis Martinez
LAST YEAR'S RANK

4

2020 RANK

3

2022 AGE

20

ACQUIRED

2018 IFA
Expected starting affiliate: Double-A New Hampshire
YEAR IN REVIEW: Handed $3.5 million to sign four years ago, Martinez has never been under the radar, but the buzz started to grow exponentially last spring when he spent considerable time on the big-league side as a teenager, oftentimes putting on power displays in BP and cage sessions that wowed the coaching staff. When he got into games, Martinez didn't disappoint, posting a slash line .364/.417/.727 that culminated in his lone home run in Grapefruit League play, an impressive blast off Philadelphia Phillies closer Hector Neris on March 29 in Clearwater. With six Ks in 11 at-bats, though, there was some obvious rawness to Martinez's approach, and that continued when he went to Low-A Dunedin as he slashed just .262/.328/.434 with three home runs through the first 29 games of the season. The adjustment period didn't last long. Martinez hit 16 bombs over his final 42 games at Low-A, slashing .292/.398/.677 in the process. Promoted to High-A Vancouver in August, the same learning curve appeared to be happening as Martinez played through nagging elbow and shoulder injuries that eventually shut him down. While the overall slash line of .214/.282/.491 isn't great, Martinez posted a 1.097 OPS and hit five home runs over his last 11 games.
OUTLOOK: Martinez surprised even some of his most ardent supporters last year with how advanced he was at the plate, making some impressive adjustments as the year went on to drop his chase rate significantly. The power is absolutely massive and it's easy to profile Martinez as your typical power-hitting third baseman, even though he's still dabbling at shortstop as well. There might be some strikeout issues to come in the upper minors with Martinez being one of the youngest players on the field and still prone to chasing a bit at this stage, but he's advanced enough to start in Double-A and if he looks as good this spring training as he did last year, it will be full steam ahead on the Martinez hype train. Martinez and Gabriel Moreno are this system's untouchable prospects in trade talks.
MLB ETA: 2023

LAST YEAR'S RANK

6

2020 RANK

8

2022 AGE

22

ACQUIRED

2016 IFA
Expected starting affiliate: Triple-A Buffalo
YEAR IN REVIEW: A lot of ink was spilled nationally on Moreno's breakout 2021 season, including some from my own pen when I caught up with him in the Arizona Fall League, as well spring training, with some commentary from Bo Bichette. If you've tracked the minors at all this year, not much more needs to be said about what Moreno did. Despite his monster campaign being interrupted by a broken thumb when he was hit by a pitch in June, Moreno slashed a ridiculous .373/.441/.651 with eight homers in just 32 games at Double-A, finished the year with a three-game cameo at Triple-A, then looked like one of the best players in the AFL. And that's exactly what Moreno has become — one of the best overall prospects in baseball. The numbers speak for themselves, but Moreno's contact skills, bat speed and sneaky pop give him a chance to hit .300 with 20 home runs in the big leagues during his prime.
OUTLOOK: While Moreno has all the necessary tools to be an everyday big-league catcher, he started dabbling at third base in the second half of the season as a potential way to increase versatility and get his bat into the lineup. That development is expected to continue and it's easy to attempt to put two and two together with third base being an area of need in the majors, but the Jays fully envision Moreno's future being behind the plate. In the short term, some added versatility could allow the Jays to carry three catchers on the 26-man roster and deploy them strategically in various situations. After some polishing time at Triple-A to start 2022, Moreno should be an option by June or July and he's too good to play a part-time role when he arrives.
MLB ETA: 2022