Six Calgary Flames predictions for 2022
Salim Valji looks ahead to what 2022 has in store for the Calgary Flames, who face big decisions with Johnny Gaudreau slated for unrestricted free agency and Matthew Tkachuk in need of a new deal this summer.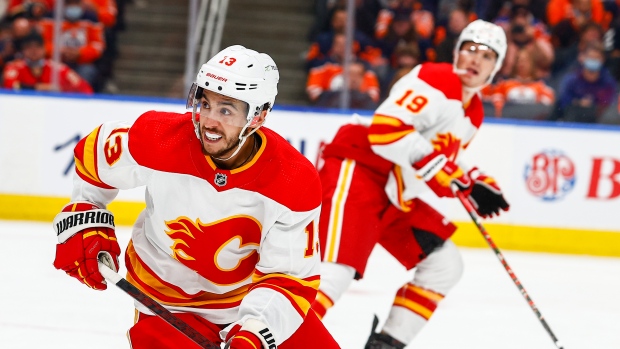 The final four months of 2021 unfolded in a manner few Calgary Flames fans could have predicted – one of the best starts in franchise history through 28 games, flirting with first place in the entire league, Jacob Markstrom on pace to shatter franchise goaltending records, and, of course, the league's biggest COVID-19 outbreak.
With much uncertainty awaiting 2022, why not make some predictions on how the coming 12 months will unfold?
General manager Brad Treliving will be active at the trade deadline and bring in at least one significant name
During a season that might be their best opportunity to make a deep postseason run before some key contracts come up for renewal and stresses of the salary cap begin to have an impact, the Flames have earned help from their general manager.
Stars Johnny Gaudreau (unrestricted) and Matthew Tkachuk (restricted) should they re-sign, will require raises. Andrew Mangiapane and blueliner Oliver Kylington, both restricted free agents and in the midst of exceptional seasons, will also see their pay go up.
The 2021-22 season could be the final playoff run for this core, and Treliving will augment it with at least one big move at the deadline.
I could easily see the organization repatriate former captain Mark Giordano from the Seattle Kraken. Darryl Sutter has said several times that the team needs more puck movement from the back end, and Giordano's skillset (plus ties to the city) make him an ideal fit.
I also think Treliving will bring in a top-six forward with term, given he knows there will likely be some turnover on his scoring lines in the off-season. Tyler Toffoli of the Montreal Canadiens makes plenty of sense.
Given the Flames' cap situation, they would have to move out a roster player or two to make such moves. Nikita Zadorov, a pending free agent, and Dillon Dube could be expendable. Right now, the Flames have about $1.7 million in cap space and three picks in the first two rounds of the upcoming entry draft.
The Flames win a playoff round and lose in six games in the Western Conference semifinals
With the likes of Elias Lindholm, Blake Coleman, Milan Lucic, and Trevor Lewis to support Gaudreau, Tkachuk, and Mangiapane, Calgary's roster is constructed well for the grind of meaningful spring hockey. That will lead to their first playoff series win since 2015. They'll also make a valiant effort in the second round but ultimately fall short.
Free agency: Gaudreau walks, Tkachuk signs a short-term deal, and Calgary makes a strong pitch for Nazem Kadri
Let's talk about the biggest names first.
Gaudreau will move on as a free agent, and Tkachuk will sign a three-year deal in the neighbourhood of $9.5 million per season. Mangiapane inks for at least four seasons and $4.5 million per, while Kylington gets a multi-year deal with a $3 million cap hit.
Treliving tried at least once to acquire Kadri from the Toronto Maple Leafs in a deal for TJ Brodie in 2019, but Kadri invoked his no-movement clause and was instead dealt to the Avalanche. Kadri is having an exceptional season with the Avs, and the Flames will circle back to him in the summer. Treliving's had some success luring high-profile free agents (James Neal, Markstrom, Coleman) and will make a serious pitch to Kadri, and view Ryan Strome as a Plan B.
Like every team, the Flames will shore up their depth as well.
They will re-sign Erik Gudbranson, Giordano (should they re-acquire him), and Lewis. They'll also pursue either Valeri Nichushkin or Nino Niederreiter. On the back end, they make pitches to Ian Cole and Nathan Beaulieu.
The Flames move on from Sean Monahan
In what surely will be one of the toughest calls of Treliving's career, he either buys Monahan out or trades the veteran centre (Monahan has a 10-team no-trade list) and retains some of his $6.375 million cap hit. After hip surgery in the spring, Monahan hasn't cracked the team's top six, doesn't kill penalties, and has just two even-strength goals. Dating back to last season, in his last 79 games, Monahan has 14 goals and 42 points.
Given the dollars headed towards Tkachuk, Mangiapane, and Kylington alone, Calgary needs to find cap space. Moving on from Monahan is one (tough) way to accomplish that.
Kirk Muller gets promoted to head coach before training camp
Muller, currently second-in-command to Sutter, assumes the reigns as the Flames bench boss. Sutter, who would be entering the final year of the three-year pact he signed last season, moves into a senior advisor role, like the one he had with the Anaheim Ducks, while continuing to have a profound impact on the organization.
The Calgary Events Centre deal gets done, perhaps in creative fashion
Calgary Flames ownership ultimately comes back to the negotiating table and the Events Centre deal gets finalized.
The remaining cost overruns (roughly $10 million) get solved - be it through mediation, the Calgary Sports and Entertainment Corporation (CSEC) finding the money, CSEC adding another minority partner who will help the process move along (the NHL recently started allowing franchises to sell stakes of up to 30 percent to private equity firms), or another level of government stepping in.
Mayor Jyoti Gondek said she would not commit more than the $300-plus million the City of Calgary is already contributing. Given the stresses the city has undergone in the past 10 years (flood recovery, high vacancy rate downtown, oil price deflating, pandemic) and her commitment to climate change, she doesn't seem likely to provide more taxpayer dollars.
Both parties have much to gain from the NHL's second-oldest rink being replaced with a multi-use entertainment venue that would help revitalize the city, enhance its image, and provide a windfall for the Flames ownership.
Ultimately, the complex agreement gets signed by both parties and shovels hit the ground.