Vladdy Jr. announces arrival with two-homer night on Left Coast
The pitch recognition and elite exit velocities have been obvious since the Blue Jays phenom arrived in the majors, but now the production is going to start catching up, Scott Mitchell writes.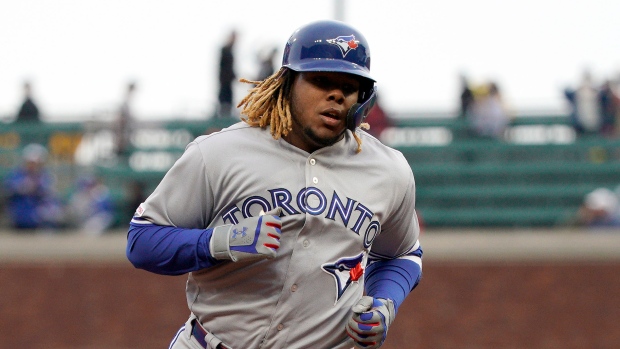 TORONTO ­­– Officially, Vladimir Guerrero Jr.'s debut will be marked down as April 26, 2019.
But his arrival will forever be remembered as May 14 when, in the 14th game of his MLB journey, he made his first big impact.
While many Toronto Blue Jays fans were focused on sleep, Vladdy Jr. was crushing a pair of no-doubt home runs in San Francisco, the same place his father hit 17 home runs in a night en route to winning the 2007 MLB Home Run Derby as a 32-year-old.
All at once, the 20-year-old hype magnet announced his arrival, silencing any small-sample-size doubters that may have formed during the quiet, homerless start over Vladdy Jr.'s first 13 games.
Despite passing the eye test since his arrival, baseball is all about production, and Guerrero Jr. limped into the Bay Area with a .191/.283/.234 slash line and just two extra-base hits, both doubles.
After a 3-for-4 night with a pair of bombs, he's sporting a .235/.328/.392 slash with four extra-base hits in 58 plate appearances.
His OPS jumped from .517 to .720 in one night.
His 97 wRC+ is now a touch under the league average of 100.
If struggling Vladdy is league average, we're all in for a treat as he starts to figure out major-league pitching and really gets comfortable with his surroundings.
The pitch recognition and elite exit velocities have been obvious, but now the production is going to start catching up.
Both of Vladdy's homers Tuesday night were Statcast darlings.
His first career bomb in the first inning saw him take an 89.9 m four-seam fastball from right-hander Nick Vincent to the deepest part of Oracle Park, with the baseball landing in the batter's eye 438 feet away.
A ho-hum 111.3 mph exit velocity.
In the top of the sixth, an even more majestic blast, this time turning around a first pitch changeup from Reyes Moronta and sending it for a 451-foot ride over the same centre field fence.
Just a 113.7 mph reading. No big deal.
He'd also add a 111.3 mph single, giving him the three highest exit velocities of the night.
Considering his max exit velocity of 118.9 mph already sits atop the 2019 leaderboard — Pete Alonso (118.3), Gary Sanchez (118.3), Aaron Judge (118.1), Kyle Schwarber (117.4), Mike Trout (116.6) and Christian Yelich (116.3), some pretty good company, have produced the next six hardest hit balls — Guerrero has already sprinkled all of his special tools into the mix, periodically, over his first three weeks in the big leagues.
Now just imagine when he starts to put them all together on a consistent basis.​