Weber has knee surgery, out until December
Montreal Canadiens defenceman Shea Weber will miss the start of the 2018-19 season after undergoing knee surgery. The Canadiens announced Thursday Weber had arthroscopic knee surgery to repair a meniscal tear and will need five-to-six months to recover.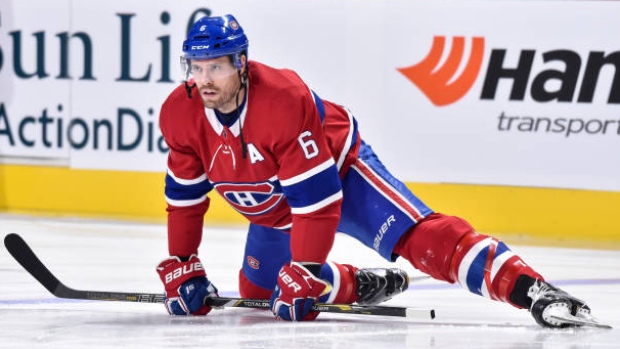 MONTREAL — The Montreal Canadiens will be without injured defenceman Shea Weber until mid-December, adding fuel to a fiery debate that has raged since the NHL club acquired the veteran in a trade for fan favourite P.K. Subban.
The Canadiens announced Thursday that Weber underwent arthroscopic surgery to repair a torn meniscus in his right knee in Vail, Colo., on June 19. His recovery time is expected to be five to six months.
The Canadiens waited two weeks to announce the surgery. General manager Marc Bergevin didn't mention it when he spoke to the media on the opening day of free agency July 1, when he said the team hopes to make the playoffs this season.
In the dark about the knee surgery, much of the talk among fans and media ahead of free agency centred on finding a left-side defenceman to play on the top unit with Weber. So far, no new defenceman has been added.
"Due to the complexity of the situation from a medical standpoint, and to avoid any distractions, it has been decided in the best interest of the Canadiens' organization to proceed with this announcement following the NHL draft and the free-agency period," the team said in a statement.
It was the second surgery this year for Weber, who underwent a procedure to repair a torn tendon in his left foot in March, which was to keep him sidelined until September or October.
Club surgeon Dr. David Mulder said the damage to Weber's knee was discovered after a knee arthroscopy as part of his rehabilitation from foot surgery.
The Canadiens made waves on June 29, 2016, when they traded popular defenceman Subban to the Nashville Predators for Weber. The fear at the time was that Weber, who is five years older, would be slowing down while Subban was reaching his peak.
Now Weber, who has eight years remaining on a contract with a US$7.8 million annual cap hit, will miss significant playing time for a second season after sitting out only 23 games over the previous nine campaigns, never missing more than four in a season.
The six-foot-four Sicamous, B.C. native with the rocket point shot, who turns 33 on Aug. 14, had 17 goals and 42 points in 78 games in first season in Montreal in 2016-17, the same season Subban helped the Predators reach the Stanley Cup final.
He suffered a torn tendon in his foot in the opening game of 2017-18 season against the Buffalo Sabres but played through it — missing one game on Nov. 9 with a knee ailment — until a Dec. 16 outdoor game in Ottawa, when he realized the situation wasn't improving.
When normal rehab didn't work, he had surgery, but was expected to be back to full health this season.
Weber played only 26 games, picking up six goals and 10 assists. His absence was one of the main reasons the Canadiens plunged from 103 points and first place in the Atlantic Division to 71 points and out of the playoffs last season.
Even with Weber the Canadiens defence group is considered to be thin, although Jeff Petry played well in Weber's absence last season.
"We were very disappointed to learn that this knee injury will extend Shea's recovery period," Bergevin said. "Unfortunately, this is out of our control and we have to fully trust the medical group in these situations. We are confident that his recovery will go as scheduled and that Shea will return to action as soon as possible."
A second round draft pick by Nashville in 2003, Weber has 189 goals, 312 assists and 620 penalty minutes over 13 seasons.