An analytical preview of the Western Conference playoffs
Travis Yost takes a closer look at the key performance indicators for each first-round series of the Stanley Cup playoffs.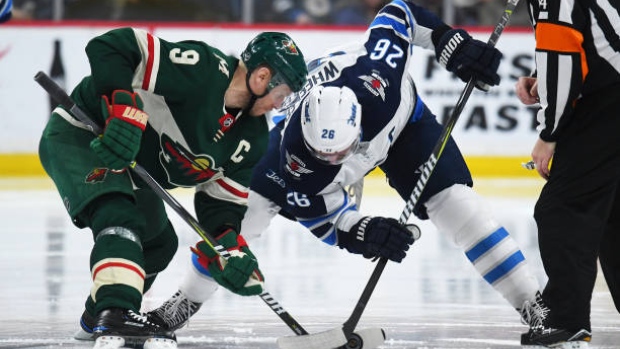 After six months and 1,271 regular-season games, we finally have hockey's version of a Sweet 16.
In what's become an annual tradition here at TSN, I'm here to breakdown each first-round series matchup from an analytical perspective. Our Eastern Conference preview can be found here.
I'll be sharing key performance indicators for each series as well as my own personal thoughts about each matchup. And yes, I'm just as excited as you are about the coming weeks.
Let's start in the Central Division, where Nashville and Colorado will meet: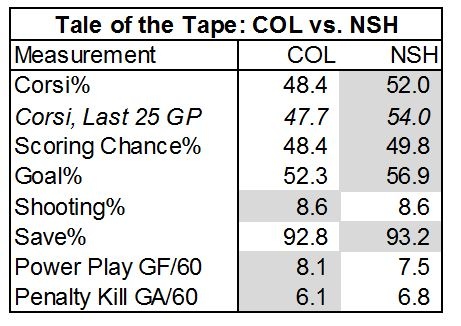 There really is no odds-on favourite in the NHL because of how much parity exists. But there's little doubt that Nashville is the favourite to win the Western Conference – and perhaps the Stanley Cup ­– as of today.
The Predators may not have the star power that a team like the Penguins has out East, but they make up for it with extreme competency down the lineup. An awful lot of time has been spent on their blueline – which runs three quality pairings deep at this point – but their forward group is just as strong.
If Columbus is the team that's on a rampage of late out East, Nashville is the team out West. They are getting 54 per cent of the shots in the last 25 games and I suspect their improvement from the first half of the year had a lot to do with eliminating a couple of the team's weaker links.
The depth in this series may be overwhelming. Colorado was swept in the season series against Nashville and was -9 in goals over those four games. A lot of this has to do with the fact that Nashville can throw hordes of bodies at the Nathan MacKinnon line, a luxury that a lot of other teams around the league simply can't afford.
If there is one opportunity for the Avalanche here, it probably comes by way of forcing Nashville away from 5-on-5 and into more penalty-killing minutes. The Predators have cut the likelihood of taking a penalty in half as the season has progressed but they still were short-handed more than any team in the league. A team like Colorado could take advantage of that.
Still, this is a daunting first-round draw for Colorado. What's been one of the most impressive single-season turnarounds in recent memory could end with a very quick – and very frustrating – first-round series. It could be doubly so with the Avs down both defenceman Erik Johnson and goaltender Semyon Varlamov.
Prediction: Predators over Avalanche
--
Winnipeg Jets vs. Minnesota Wild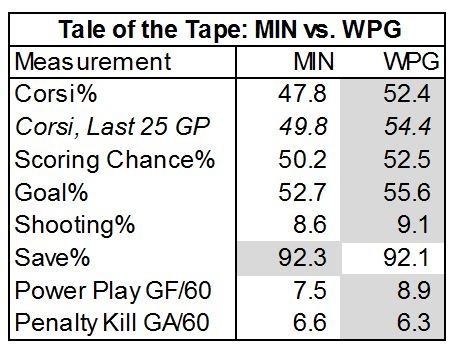 We talked about Colorado and Nashville being a bit of a mismatch. By the numbers, it appears the 2 vs. 3 series in the Central could be one too.
Winnipeg is probably the one team that keeps Nashville up at night. The two were neck-and-neck in the standings all season long and their regular season matchups were about as close as you can possibly get. I bring this up because Nashville is frequently recognized as a Stanley Cup favourite, though I'm not sure Winnipeg gets the same pop with the media. They probably should.
The one statistical advantage the Wild appear to have is in net ­– and even that may be up for debate. Some of this has to do with the type of backup performance that both teams received. Whereas Alex Stalock was strong in that role for the Wild (.910 save percentage in 28 GP), the combination of Steve Mason, Michael Hutchinson, and Eric Comrie were less so (.899 save percentage in 19 GP) for the Jets. In terms of the starters, there's a reasonable argument to be made that Connor Hellebuyck outplayed Devan Dubnyk this year, though both had very strong seasons.
If goaltending is a wash, then Minnesota's situation looks even more trying than initially anticipated. Winnipeg is loaded with scorers up and down the lineup – Blake Wheeler is coming off a 91-point season and on the outside of the Hart Trophy discussion, and young superstars Patrik Laine and Nikolaj Ehlers combined for 73 goals. Oh, and they did this while missing their star centre Mark Scheifele for a quarter of the season as he dealt with an upper-body injury.
Minnesota not only has to figure out how to slow down the league's second-best offence (3.33 goals per game). They have to do it knowing that defenceman Ryan Suter, who may be the most utilized and burdened blueliner in the entire league, will not be available. Suter fractured his right ankle in early April and won't be back until next season. Replacing 27 minutes a night on the fly is a brutal ask, but it's compounded because of how good their opponent is.
Prediction: Jets over Wild
--
Vegas Golden Knights vs. Los Angeles Kings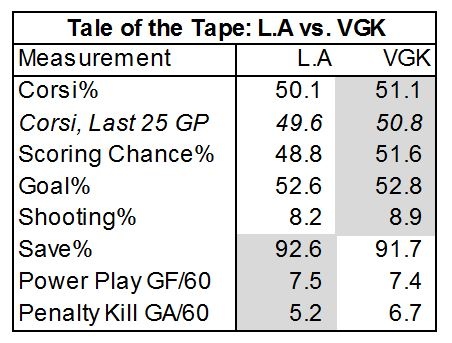 This is one of the more intriguing first-round draws. The Golden Knights are the better team, but the Kings have a couple of key components that could force an upset.
One: Jonathan Quick turned in one of his best seasons since 2011-12, and that with a Kings team that's tried to play more up-tempo hockey in the post-Darryl Sutter era. I'm not sure it's fair to conclude that he's better than Marc-Andre Fleury, who had a great year in his own right, but he remains the type of goaltender who could steal a series.
Two: Few teams have really had an answer for Vegas' top line. Jonathan Marchessault, William Karlsson, and Reilly Smith have run roughshod over the entire league. Their 46 goals at even strength were second-highest in the league (that comes out to about 4.0 goals per-60 minutes too, which is equally impressive.) The Kings will counter with centre Anze Kopitar, who may be the best defensive forward in the entire league. His line gave up next to nothing in terms of zone time against or goals against all season long.
Vegas, with home-ice advantage, will generally have more control of the matchups. But I expect the Marchessault line to see a ton of time against the Kopitar line. If Los Angeles can force a wash in the goals department in that mini-battle they will have a real shot to advance in this series.
One last note here: Vegas did own the head-to-head matchup during the regular season. In the handful of games played, Vegas had 60 per cent of scoring chances and 53 per cent of the goals. I think it's fair to say that Vegas' team speed did give Los Angeles some fits in many of those spots, but the question is will that continue to carry over during the postseason?
Prediction: Golden Knights over the Kings
--
Anaheim Ducks vs. San Jose Sharks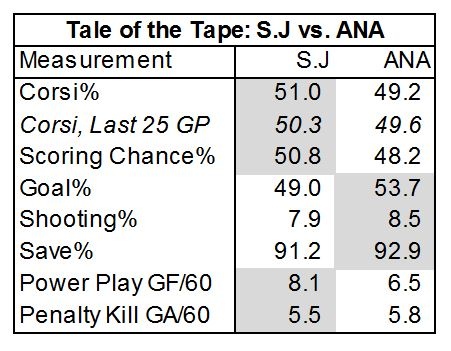 This series is probably the biggest toss-up of all eight. While I like San Jose's roster marginally more, I think Anaheim goaltender John Gibson could end up being the biggest X-Factor of the entire first-round.
Gibson will be a Vezina Trophy finalist and deservedly so. He stopped 92.6 per cent of shots in 60 games this year and is the biggest reason why Anaheim was able to squeeze into the postseason. (For all Anaheim did defensively, they still bring the weakest offence of any playoff team into the fray at 2.8 goals per game.)
But there is a reason that both teams finished right near the playoff cutline. They are two of the weaker playoff teams coming into the fold, whether you're looking at performance at the full-year level or over the more recent 25-game stretch.
On the San Jose side you can attribute a lot of that to the loss of two marquee players in Patrick Marleau (via free agency to Toronto) and Joe Thornton (via injury). Thornton is reportedly going to be unavailable for at least Game 1 of the playoffs, which leaves a huge void down the middle of the ice. Add that to the fact that former Norris Trophy winner Brent Burns has been less effective this year (San Jose has 52 per cent of the scoring chances with him on the ice, but 45 per cent of the goals), and you have a recipe for playoff mediocrity.
That doesn't mean this team is punchless. The acquisition of Evander Kane has proved brilliant, as he has fit seamlessly into the top six, and veterans Joe Pavelski and Logan Couture (66 and 61 points, respectively) still had fantastic seasons.
Anaheim on the other hand is, in a word, unpredictable. On some nights they look amazing and on other nights they look completely overwhelmed. Part of this is due to the fact that they have reverted back to the top-heavy team they were pre-dating the Bruce Boudreau era.
They are great with the Getzlaf line on the ice, or the Lindholm pairing on the ice, or both. But when they come off, the bottom six sometimes struggled. Ondrej Kase and Adam Henrique have been nice fits in the middle of the lineup, but again, the measuring bar for playoff teams is higher and I'm not quite sure the Ducks clear it right now.
All this to say: I really don't have any sort of feel for this series. Both teams have high-end talent but struggle further down the lineup. Anaheim has the goaltending edge, and San Jose has the special teams edge. As a fan I'll enjoy watching two rivals play each other in a long series, but it doesn't leave me confident in any way as it pertains to a pick. I'll roll with the home team, though, as my final tiebreaker.
Prediction: Ducks over Sharks