Colts' Vinatieri showing no sign of slowing down
Adam Vinatieri is pursuing perfection. The NFL's oldest player, age 41, hasn't missed an extra point or a field goal this season. His streak of 26 consecutive field goals is the third longest in Colts' history. On Sunday night, the best clutch kicker in league history can become the first NFL player to score 100 points in 17 seasons.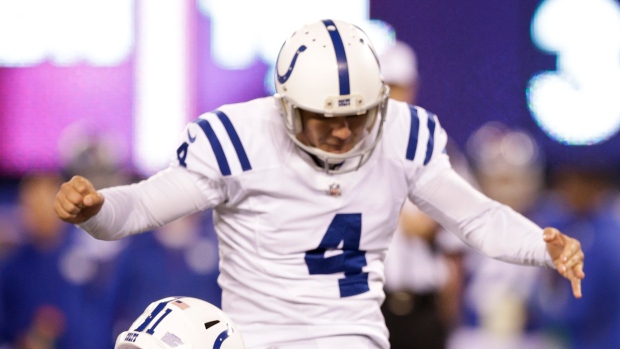 INDIANAPOLIS - Adam Vinatieri's greying temples and greyer beard reveal one part of his remarkable career. At age 41, he is the NFL's oldest player.
He's not slowing down.
Nine years after the league's best clutch kicker made the surprising move to leave New England and sign with rival Indianapolis, Vinatieri is still finding ways to kick it in a young man's world.
"At his age, he could probably just leave practice and say 'See you on Sunday.' But Vinnie works just as much now as he did when he was 25 years old," teammate Pat McAfee said. "The reason he is so good and can be so good for however long he wants to be is his work ethic."
McAfee was 9 years old when Vinatieri was a rookie in 1996.
Over five seasons as Vinatieri's understudy, the Colts punter and kickoff specialist says Vinatieri has advised him on everything from how to eat right to finding the proper balance between football and life. McAfee believes those life lessons have helped him thrive, and remain the primary reason Vinatieri seems to be on the cusp of milestones every week.
The next chapter could come Sunday night when Vinatieri will try to become the first player in league history with 17 seasons of 100 points. He needs eight points to break a tie with Jason Elam, and it would be a fitting moment as the Patriots (7-2) and Colts (6-3) renew their rivalry.
"He's as good of a kicker, good of a clutch kicker, and consistent kicker that's probably ever been in the game," New England coach Bill Belichick said Wednesday. "Mentally, he's as tough as they come in terms of concentration, focus, discipline, blocking out all the things that he can't control and just doing his job."
Vinatieri, after all, made decisive last-minute field goals in each of New England's three Super Bowl wins. He earned his fourth Super Bowl ring in his first season with Indy. He made two equally memorable field goals during a New England blizzard, to tie and then beat Oakland, as the Pats' made their first title run.
Last month, he became first NFL player to score 900 points with two franchises and he's just 60 points away from making it an even 1,000 with both teams. With two points Sunday, he'll also join Morten Andersen, Gary Anderson and Jason Hanson as the only players to reach 2,100 career points.
Things haven't changed much this year. Vinatieri is 32 of 32 on extra points and 20 of 20 on field goals. His current streak of 26 consecutive field goals made is the third longest in franchise history.
But Vinatieri's legacy cannot be measured purely by numbers.
He's played for Hall of Fame coach Bill Parcells, Hall of Fame finalist Tony Dungy and, of course, Belichick. He's played with three No. 1 overall draft picks -- Drew Bledsoe, Peyton Manning and Andrew Luck -- in addition to certain Hall of Famer Tom Brady. He also played for the defunct World League of American Football long ago.
Not all of his moments have been memorable. His Super Bowl kickoff against Green Bay in 1997, returned for a touchdown by Desmond Howard, has appeared in the NFL's Hall of Fame. It made Howard the only special teams player to ever win the MVP award.
Vinatieri put that behind him long ago. An avid hunter, he also learned at a young age about the necessity of maintaining a steady heart rate before taking a shot.
Backup quarterback Matt Hasselbeck saw how good he truly is when Vinatieri popped in a video of a lion hunt in Africa. As Vinatieri tracked the animal, the guide started explaining it was no longer safe.
"I feel like I'm pretty unflinchable and my heart was racing," Hasselbeck said. "I remember thinking, 'There's no way a field goal is going to get his heart racing.'"
Teammates don't just respect Vinatieri for his experiences. They've given him one of the rarest titles a kicker can attain, locker room leader.
Not surprisingly, Vinatieri doesn't let the milestones, the nickname, the honours or the buzz get in the way of what he does best. That's how he got a foothold in the NFL. And that's how he intends to keep it until he leaves, on his terms.
"It's been a lot of fun," he said. "There have been so many great moments throughout my career -- the first time you win the Super Bowl is something you dream about as a kid. The Snow Bowl game was fun. Tackling Herschel Walker as rookie was great fun.
"When you get to my age, you focus on staying healthy and staying productive," he added. "If that's a year or three years, I don't know. I'm not putting a time on it."
___
Online:
AP NFL website: www.pro32.ap.org and http://twitter.com/AP_NFL