Countdown to TradeCentre: Latest on Leafs and Glendening
Check out some updated trade rumours and speculation from around the NHL beat including the latest on the Maple Leafs pursuit of Luke Glendening, who the Senators are likely to keep at the deadline and trade options for the Winnipeg Jets.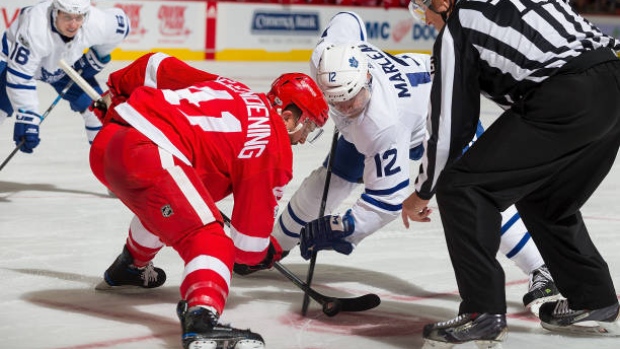 The National Hockey League's Trade Deadline is on Monday, Feb. 26, and teams will be making decisions on whether to buy or sell and decide which players can make the biggest difference and hold the greatest value. Check out the latest trade rumours and speculation from around the NHL beat.
---

Still in Pursuit?
TSN Senior Hockey Reporter Frank Seravalli wrote Monday the 'belief is the Toronto Maple Leafs offered a fifth-round pick for Luke Glendening, while the Detroit Red Wings countered by asking for a second-round pick." Seravalli added that the two teams tabled talks at that point since the Leafs were not willing to meet the Red Wings' price.
TSN Hockey Insider Darren Dreger said Tuesday morning Glendening is drawing interest on the trade market, but it's unclear if the Leafs still have interest.
"The Toronto Maple Leafs' interest in Glendening, it's pretty obvious, is the connection from [head coach Mike] Babcock to Glendening," Dreger told TSN Radio 1050 Toronto. "He'd be a depth centre, probably on the fourth line. The problem with him is - aside from anyone that wants to judge his hockey talent, if you're critical of his hockey talent - he has three years remaining after this year at $1.8 million per year. So Detroit would have to eat money and the sense that I was getting up until yesterday was that, yeah, Toronto had some interest but they weren't really in a position yet to make a legit offer, so it seemed dead.
"Now, over the course of the night, it sounds like Ken Holland and the Red Wings are now tracking a bit more interest in Glendening, but I don't know yet whether or not Toronto is back in that mix."
The 28-year-old has eight goals and 14 points in 46 games with the Red Wings this season. He has 32 goals and 74 points in 339 career NHL games, all with Detroit.

---

Trading Places
Ottawa Senators forward Mike Hoffman dropped five spots to No. 8 on the TSN Trade Bait board Monday, while teammate Derrick Brassard moved up to No. 3.
TSN Hockey Insider Darren Dreger said Monday there's still a chance Hoffman could be moved before the trade deadline, but the Senators have set a high price tag on the winger.
"The door is still open to the possibility of Mike Hoffman being traded by the Ottawa Senators, but it is going to take a premium, premium return for Pierre Dorion to consider it and ultimately pull the trigger because he is so talented," Dreger said. "Matt Duchene has got wonderful chemistry with him, talks about how talented he is. Of course he's got the shot, he's got the speed - but there's hockey IQ.
"So if you're Ottawa, you're going through a renovation, a retool - not a complete tear-it-down-to-the-wood type of rebuild. So if you move Mike Hoffman and you don't get exactly what you need, how do you replace that player. Because you're going to want to replace him within a year or two."
Hoffman, 28, has 16 goals and 39 points in 58 games this season. He carries a $5.19 million cap hit for the next two seasons.
With the Senators still expected to make changes before the deadline, keeping Hoffman could mean moving Brassard to help the "renovation" along. Brassard, 30, has 17 goals and 35 points in 56 games this season.
"Well, they both are drawing considerable interest," Dreger said of Hoffman and Brassard. "In Derick Brassard you get at worst a No. 2 centre. Multiple teams have expressed interest in Derick Brassard, including the likes of the Winnipeg Jets and how about this one - the Pittsburgh Penguins. Could you imagine Derick Brassard playing as third-line centre behind Evgeni Malkin and Sidney Crosby as the Pittsburgh Penguins try to win a third-straight Stanley Cup?
"Again though, when you're trying to move a piece and a piece as quality as Derick Brassard, what's the rate of return. It's going to be a first-round pick plus and that's a tough one for a lot of teams."
Brassard carries a $5 million cap hit through next season.

---

Fueling Up?
As Darren Dreger mentioned above, the Jets are among the teams who have shown interest in Brassard, but he added Monday general manager Kevin Cheveldayoff is keeping his options open ahead of the deadline.
"Cheveldayoff is making his calls, just like most NHL general managers, he's looking around the league he's talked to the New York Rangers about the variety of players that they have available, starting with Rick Nash," Dreger said on Tim Hortons That's Hockey. "Now whether or not Rick Nash wants to go to Winnipeg, we'll see, perhaps it's an option. Mike Hoffman of the Ottawa Senators, again, an option, an unlikely but possible option. Patrick Maroon and Mark Letestu of the Edmonton Oilers are both options as well.
"So, what Cheveldayoff is doing here, is his due diligence. Now, could he do something impactful? Absolutely he could. He certainly has the appetite to do it but the market has to there and the assets going out have to be acceptable to the Winnipeg Jets."
The Jets (35-15-9) are currently tied with the Nashville Predators for first place in the Central Division.

---