Borowiecki has another hearing with league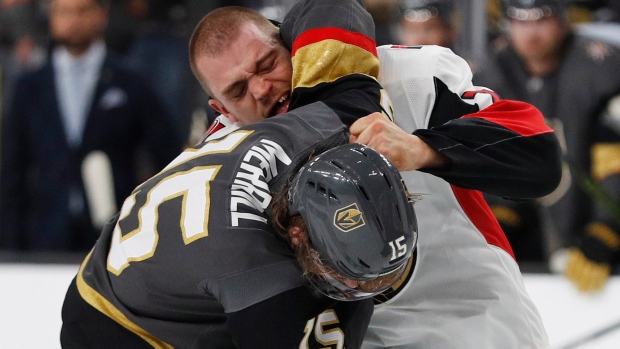 Ottawa Senators defenceman Mark Borowiecki had his second hearing in less than a week with the NHL's Department of Player Safety on Monday.
Borowiecki was asked about an illegal check to the head of Vegas Golden Knights forward Cody Eakin that came in Sunday night's overtime loss.
The 29-year-old's return to the Senators lineup after a one-game suspension lasted less than a period before he was ejected for the hit on Eakin.
Borowiecki was given a five-minute major and a game misconduct for charging after hitting Eakin deep in the Golden Knights zone with less than five minutes left in the first period. Vegas defenceman Jon Merrill fought Borowiecki just after the hit was delivered and received an instigator penalty and a game misconduct for his actions.
Golden Knights head coach Gerard Gallant came to the defence of Borowiecki, stating he doesn't believe there was any malice behind the body check.
"It was a big hit. I don't think Borowiecki wanted to go over there and exactly hit Cody Eakin in the head," Gallant said. "But the puck came to Cody right there and he was coming in with a lot of speed... but I don't think there was any intent to try and hurt the guy."
Eakin did not return to the game after the hit, making him the second player injured by Borowiecki in less than a week.
The Senators defenceman picked up a one-game suspension last week for his elbow to the head of Boston Bruins rookie defenceman Urho Vaakanainen on Tuesday night. Vaakanainen sustained a concussion from the elbow and has not played since.
The suspension last week was the second of Borowiecki's career; the first came in 2016 for boarding against Los Angeles Kings forward Tyler Toffoli.
The Golden Knights won Sunday's 4-3 on Jonathan Marchessault's penalty shot goal in overtime.