Leafs hire 6-time Olympian Wickenheiser
The Maple Leafs added six-time Olympian Hayley Wickenheiser to their staff on Thursday in the role of assistant director of player development. Wickenheiser's hire was announced along with a series of front office moves by the Maple Leafs.
Kristen Shilton, TSN Maple Leafs Reporter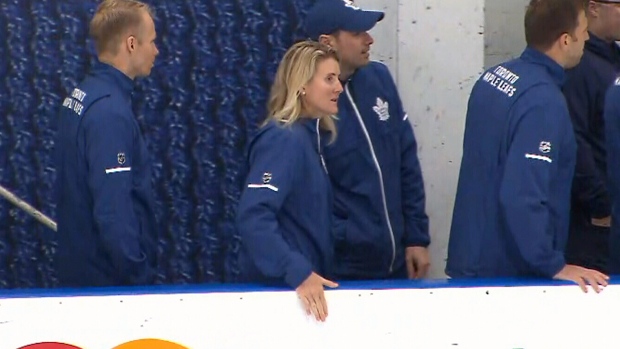 TORONTO — Hayley Wickenheiser retired last year after a storied playing career that included a record number of Canadian Olympic gold medals. Now she's breaking barriers off the ice.
The Toronto Maple Leafs announced Thursday that Wickenheiser has been hired as the team's assistant director of player personnel, a landmark appointment not just within the Leafs' organization but the National Hockey League as a whole. There are few women in prominent hockey operations roles around the league.
The Leafs brought the 40-year-old to the club's development camp last June as a guest coach. Wickenheiser was involved daily with on-ice activities and in the meeting rooms, helping to guide Toronto's hand-picked talent and free agent invites through a rigorous week of work.
Now she joins skating coach Barb Underhill and newly hired amateur scout Noelle Needham in the small but growing contingent of female staff for the Leafs. Back in development camp, Wickenheiser was happy to embrace her short-term role in Toronto, but always had one eye trained on a possible long-term future. And not just because it would diversify the Leafs' staff.
"The biggest reason I was intrigued about this role is that (general manager) Kyle (Dubas) was interested in me, not just to hire a woman but to hire someone who could do the job," Wickenheiser said on a media conference call Thursday afternoon. "I feel pretty confident in my abilities to be in this role and that I belong and can handle myself with anyone. For me, it's that I have a job to do, I have a role to take on to help the Leafs try to win and that's how I'm approaching it, no different than I did when I was a player."
Last spring, the four-time Olympic gold medalist (and one-time silver medalist) was complimentary not just of the system Dubas and the Leafs had implemented at development camp, but of the 31-year-old executive's forward-thinking attitude when it came to surrounding the team's prospects with a diverse group of coaches and consultants.
Dubas reiterated on Thursday his belief that stacking Toronto's staff with new, differing voices, ones tailor-made for the position regardless of gender, will only benefit the Leafs' on-ice product. Wickenheiser's appointment was a natural step in the right direction.
"When we go through any process of hiring people to add to our program, we're looking for the best people period and in this case, I thought for the roles we were looking for, Hayley was certainly the best person to fill that role because of her expertise in hockey and her experience of being an elite, elite player at every level of hockey," Dubas said. "She has a greater ability in that she was one of the great players to ever play the game and she can connect with our players on that level as well because that's unique experience that she can bring."
Wickenheiser brings with her an incomparable international pedigree between Olympic hardware and 11 world championship medals (seven gold, six silver), as well as personal experiences attending NHL development camps (with Edmonton, as a coach, and Philadelphia, as a player) and playing professional hockey overseas from 2002-04 and again in 2008-09.
At every level of the sport, Wickenheiser has excelled - or at least left an indelible mark. Always an overachiever, Wickenheiser will continue working towards her medical degree while tackling her new position with the Leafs. She intends to bring the same level of dedication to both endeavors, the same as she has in every other professional stop along the way.
"I've played and trained with the best players in the game so I know how those guys think and approach the game day in and day out," she said. "I'm pretty confident that I can help players get better and understand what it takes to get better. Any time you step on the ice whether it's with a player or a coach, you can always take something from them and then it's just about being able to translate that to a player to help them be better in their game."
And perhaps the Leafs' appointment will serve as the start of a better trend in the National Hockey League, a major league that lags behind others in gender diversity. While it's still not immediately closer to a female NHL coach-in-waiting like San Antonio Spurs' assistant Becky Hammon, hirings like Wickenheiser's are a positive sign of the direction the NHL could trend towards in the future.
In addition to Wickenheiser's addition to the Leafs' staff, Toronto also made several promotions from within. Scott Pellerin was elevated to senior director of player personnel, while former NHLer Stephane Robidas takes over as director of player personnel. Needham was added to the amateur scouting staff in the Midwestern U.S. region and Victor Carneiro joins as an amateur scout in Ontario.