Solarte sets Jays record in DH split with Tribe
Yangervis Solarte hit his first career grand slam with two outs in the 11th inning Thursday to send the Toronto Blue Jays to a 13-11 win over the Cleveland Indians in the first game of a traditional doubleheader. The Indians use a nine-run 5th to take the nightcap 13-4. Solarte had eight hits over the twin-bill to set a Blue Jays record.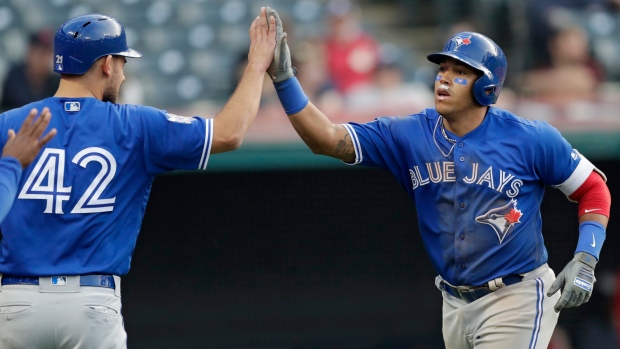 CLEVELAND — Indians manager Terry Francona was too tired to realize he reached a personal milestone.
An extra-long day at the ballpark left everyone exhausted.
Francona reached his 1,500th career win Thursday night when Cleveland bounced back from a tough loss in the opener to pound the Toronto Blue Jays 13-4 in the second game of a makeup doubleheader.
When he reached the clubhouse, Francona was approached by Indians ace Corey Kluber.
"Kluber said to me, 'Hey, congratulations,'" Francona said. "And I said, 'What for? We've split before.'"
Jose Ramirez hit a two-run homer, Erik Gonzalez had four RBIs and Adam Plutko won his first major league start as Cleveland earned the split after dropping the opener 13-11 in 11 innings.
The teams were forced to play two after back-to-back weather postponements on April 14-15. Then they waited through a 1-hour, 53-minute rain delay before needing nearly five hours to determine a winner in Game 1.
The second game started 45 minutes later and went much more quickly, with the Indians running away from the Jays with a nine-run fifth highlighted by Ramirez's homer and Gonzalez's three-run double.
In the opener, Yangervis Solarte hit his first career grand slam with two outs in the 11th inning as the Blue Jays outlasted the Indians in a game that featured 15 pitchers and 32 hits. Solarte was involved in several big plays and cut his face on an awkward slide into third in the third inning.
Solarte went 8 for 10 with seven RBIs in the doubleheader. Afterward, the scars of his slide were evident as his nose and upper lip were scraped raw.
"It really hurt," Solarte said. "But I didn't want to come out of the game, and look what happened. It would take a lot more than that to get me out of the game. I knew I had to go through the pain."
Back from the disabled list, Josh Donaldson homered in both games for Toronto.
"A long day? That's an understatement there," Blue Jays manager John Gibbons said. "The first game was a hell of a game. It stripped our pen real hard, but it was a good day because we got a big home run from Solarte."
Plutko has spent the season at Triple-A Columbus waiting for his chance. Cleveland's strong rotation is a tough one to crack, but the right-hander made the most of his opportunity, allowing three runs — all on homers — and six hits in 7 1/3 innings.
In the second inning, Francona joked with the right-hander.
"I said you're on a pitch count — it's 225," said Francona, who became the 24th manager to reach 1,500 wins. "And he laughed. I think he actually handled himself really well. He just seemed like he was looking forward to pitching, and I think he feels better physically. I think he wanted to go out and kind of show and he did. He did a heck of a job."
Once the Indians chased Joe Biagini (0-1) in the second game, Gibbons had Luis Santos, recalled before the game, take one for the team. He gave up six runs and five hits in 1 2/3 innings.
The Indians twice fought back to tie the opener, but couldn't overcome Toronto's 13-9 lead in the 11th inning.
Pinch-hitter Luke Naile walked with two outs against Tyler Olson (0-1) before Donaldson doubled for his third hit in his first game since April 10. After Teoscar Hernandez walked, Solarte pulled a 2-0 pitch into the left-field bleachers for his fifth hit, giving him six RBIs.
Before his slam, Solarte's fielding error in the eighth allowed the Indians to tie it. He was also thrown out trying to stretch a single in the 10th and nearly knocked himself out while flopping into third in the third.
Tim Mayza (1-0), Toronto's sixth reliever, pitched one inning for the win as the Jays bounced back after being shut out Wednesday.
Francisco Lindor homered twice in the opener for the Indians, who overcame a 5-0 deficit with a seven-run fourth and were down 9-7 in the eighth.
Donaldson hit a tying two-run homer in the sixth off Nick Goody and added a run-scoring double. The 2015 AL MVP had been sidelined with a sore right shoulder.
Russell Martin added a two-run homer in the opener for Toronto.
Cleveland starter Carlos Carrasco was in line to pick up an ugly win after the Indians rallied from a 5-0 hole. But after giving up a one-out single in the sixth, Carrasco was lifted for Goody and Donaldson homered on the reliever's first pitch.
It was the third homer allowed in three pitches by Goody, who gave up back-to-back shots in the 12th inning of a loss to Texas on Tuesday. Goody was placed on the disabled list with elbow inflammation and Francona said he will undergo an MRI on Friday.
DOUBLE TROUBLE
The Indians became the first team since the Oakland Athletics in 1975 to score at least seven runs in one inning in both games of a doubleheader.
EXTRA, EXTRA
While Toronto improved to 4-0 in extras, Cleveland fell to 0-4.
MUD SLIDE
Solarte got a face full of infield dirt with his poorly executed slide. Tagging at second on a fly to centre, Solarte attempted a head-first slide that went awry and he dragged his face across the ground before flipping over the bag. Solarte needed medical assistance and a few moments to compose himself before play resumed.
TRAINER'S ROOM
Blue Jays: 1B Steve Pearce was placed on the 10-day disabled list between games with a strained side muscle. He got hurt while striking out in the fifth.
Indians: LHP Andrew Miller (hamstring) will throw a bullpen session over the weekend in New York before the Indians decide whether to activate him. Their bullpen has been a mess without him.
UP NEXT
Blue Jays: Continue a stretch of eight games in seven days with a three-game series in Tampa. J.A. Happ starts Friday's opener against Ryan Yarbrough.
Indians: Josh Tomlin faces New York's vaunted lineup in the opener of a three-game series at Yankee Stadium on Friday. Tomlin has allowed a major league-leading 10 homers in 18 2/3 innings.