Countdown to TradeCentre: What to do with Lucic?
Check out some updated trade rumours and speculation from around the NHL beat including the latest on the Edmonton Oilers' options with struggling forward Milan Lucic, the price on Patrick Maroon and whether the Montreal Canadiens should make any big moves at the deadline.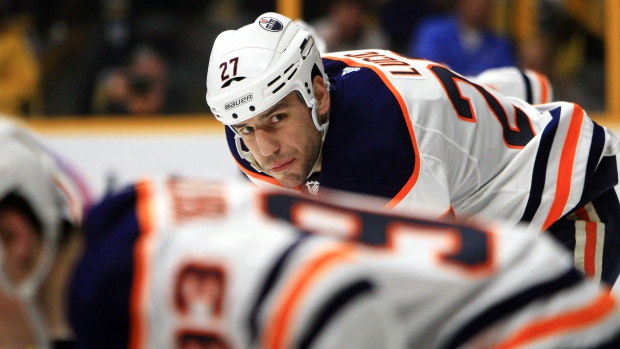 The National Hockey League's Trade Deadline is on Monday, Feb. 26, and teams will be making decisions on whether to buy or sell and decide which players can make the biggest difference and hold the greatest value. Check out the latest trade rumours and speculation from around the NHL beat.
---

What to do now?
Milan Lucic's goal drought hit 20 games as the Oilers lost 4-1 to the Vegas Golden Knights on Thursday.
The Edmonton Oilers forward has nine goals and 30 points in 56 games this season and has been held without a point in each of his past nine contests.
Lucic carries a $6 million cap hit on the seven-year contract he signed with the Oilers in July of 2016. TSN Hockey Insider Darren Dreger said Thursday the Oilers knew the contract would be considered overvalued at some point, but didn't expect it to happen in just his second season.
"When Peter Chiarelli and the Edmonton Oilers embraced the term and the money that was required to bring Milan Lucic to Edmonton, they knew that at some point in the contract it was gonna look ugly. They just couldn't predict that it would happen as quickly as this," Dreger told TSN Radio Edmonton 1260. "But, you look at the team in general and there's a myriad of reasons, or at least theories, as to why the Edmonton Oilers haven't achieved to the level that many of us predicted that they would and Milan Lucic is a part of that.
"He was brought in for a number of reasons, starting with character and to play a somewhat deterrent role to go along with his ability to be a very good power forward in today's NHL. The problem is he can't keep up with Connor McDavid, so he's not really a strong option on that line. Where do you play him below that? Lucic is incredibly proud. His lack of offence I know isn't sitting well with him. He wants to earn every penny of his contract and unfortunately, in the moment, that's not going well for him.
"What do they do with it? Way too early for that. I think that they're at least a year out before that becomes a realistic issue."
Lucic said Tuesday he planned to cut his body weight from his current 238-pound frame in the off-season to try to keep up with the increasing pace of NHL play.
"Yeah it can," Lucic said when asked by the Edmonton Sun if his body can be lighter. "I know I have to do that but I'm a big-boned person. When we were in L.A., we did a test where they'd give you your bone mass. A regular one was eight pounds for an athlete and I was 11 pounds," Lucic said of the dual-energy X-ray absorptiometry (DEXA) scan, which measures bone density. "That's my natural build. I have changed my diet. I can change my shape. I worked hard on it this summer and felt my legs were going at camp and the start of the season.
"I have to get down to 225. It's a matter of will and want."

---

What's Coming Back?
While Milan Lucic is not expected to be moved at the deadline, the Oilers are expected to deal pending free agent Patrick Maroon.
TSN Hockey Insider Pierre LeBrun said Thursday the Oilers could likely fetch a first-round pick for Maroon, but general manager Peter Chiarelli would prefer to get a prospect back in the deal.
"Well, certainly I think there's a belief that by the time they're done on that front that if they do trade him, a low first round pick is a possibility for the Edmonton Oilers and maybe that's what they end up doing," LeBrun said on Insider Trading. "However, I think if there is a preference or priority for Peter Chiarelli and the Oilers, it's to get a top prospect, someone who is closer to making an impact on the Oilers roster as they try to make a quick turnaround next year and be a competitive team once again and so there are certainly teams out there with an abundance of prospects that I think can do that for the Edmonton Oilers. One thing to keep in note, agent Allain Roy, the agent for Patrick Maroon is expected to speak again with Peter Chiarelli over the next 24 to 48 hours. The door not totally closed on re-signing, but more and more you get the sense that he will be dealt, given the interest."
TSN Hockey Insider Darren Dreger listed two teams that are interested in Maroon, but it's unclear whether they're willing to meet the Oilers' price.
"The Winnipeg Jets are definitely interested in Patrick Maroon from the Edmonton Oilers and the Boston Bruins are interested as well. I don't think either team is really going to want to have to throw in a first-round draft pick to acquire Patrick Maroon, but both teams most definitely have the young assets to be involved in that trade conversation," Dreger said. "So both Boston and Winnipeg paying close attention to what Chiarelli is doing.
"Meanwhile, Chiarelli could be busy, certainly between now and the start of next season. He wants to acquire a winger who can skate with Connor McDavid, a defenceman who can help their transition game and a goalie who's going to push Cam Talbot."

---

Stand Pat?
The Montreal Canadiens are widely expected to be sellers at the trade deadline, but Arpon Basu of The Athletic believes the franchise would be better off simply standing pat.
Basu argues that Canadiens general manager Marc Bergevin should not be given the ability to make franchise-altering trades at the deadline due to his "tenuous" standing with the team. Basu believes the time for big moves for the Canadiens will be at the draft, whether it's Bergevin or a new general manager at the helm.
The Canadiens have just four pending unrestricted free agents in Tomas Plekanec, Ales Hemsky (injured since Oct. 21), Jakub Jerabek and Antti Niemi. Basu believes the Canadiens should jump to trade Plekanec if they're offered a second-round pick and argues the team should sell Niemi, a waiver claim earlier this season, for anything they can get.
Basu argues that even if team owner and president Geoff Molson is leaning towards keeping Bergevin, he should conduct a thorough review before any major trades can be made by the current general manager.

---

Keeping the Band Together?
Pierre LeBrun believes the Vegas Golden Knights could be content to keep their current roster in place for a postseason run and gamble on losing their pending free agents.
LeBrun wrote in The Athletic that general manager George McPhee is willing to keep James Neal and David Perron, despite their expiring contracts. He notes, however, that McPhee is likely to be reluctant to part with draft picks to acquire rentals at the trade deadline.
With Thursday's 4-1 win over the Edmonton Oilers, the Golden Knights improved to 38-15-4 on the season, first in the Western Conference. LeBrun believes the team could elect to simply stick with what's working and stand pat at the deadline.