Masterton Trophy nominees revealed
The Bill Masterton Memorial Trophy is awarded annually to the player who "best exemplifies the qualities of perseverance, sportsmanship and dedication to ice hockey."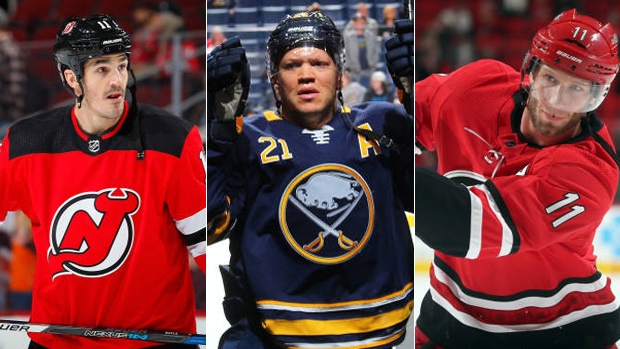 The Bill Masterton Memorial Trophy is awarded annually to the player who "best exemplifies the qualities of perseverance, sportsmanship and dedication to ice hockey."
On Tuesday, each Professional Hockey Writers' Association chapter will announce their club's nominee, and the list will be voted down to three finalists ahead of the winner being revealed at the NHL's awards gala in June.
The nominees revealed so far include New Jersey Devils forward Brian Boyle, who has 13 goals and 23 points in 62 games this season despite being diagnosed with chronic myeloid leukemia in September, Carolina Hurricanes forward Jordan Staal, who missed three games after losing his infant daughter to a terminal birth defect, and Buffalo Sabres winger Kyle Okposo, who was hospitalized after last season due to a reaction to concussion medication.
Matt Stajan was named Calgary Flames nominee. Stajan, in his 14th NHL season, appeared in his 1,000th career game earlier this month.
Edmonton Oilers head coach Todd McLellan revealed Adam Larsson had been voted his team's nominee. Larsson's father passed away in February at the age of 50 while visiting Adam in Edmonton.
Goaltender Antti Niemi was named the Montreal Canadiens' nominee. Niemi, 34, was waived twice this season before landing with the Canadiens and has since posted a career-best .936 save percentage.
Mark Borowiecki is the nominee from the Ottawa Senators. He is one point away from matching his career-high of 11 points despite being limited to 45 games this season. He missed more than month earlier this season due to post-concussion syndrome.
Roman Polak was named the nominee for the Toronto Maple Leafs. He suffered a devastating leg injury in the playoffs last season and returned to earn spot on the Leafs blueline.
Defenceman Tyler Myers is the nominee from the Winnipeg Jets. Myers played in only 11 games last season due to hip and groin issues and also dealt with the premature birth of his son, who had serious health complications. Myers has played in 75 games this season and his son, Tristan, turned one in January.
Derek Dorsett was named the Vancouver Canucks nominee. He was forced to retire from professional hockey in November due to health reasons and the risks associated with playing. The 30-year-old underwent cervical disc herniation surgery in December of 2016. He was medically cleared to start the 2017-18 NHL season, but stiffness in the neck and back persisted leading him to retire.
Below is a list of the nominees, which will be updated as they are revealed:
Anaheim Ducks
Arizona Coyotes - D Jakob Chychrun
Boston Bruins - F David Backes
Buffalo Sabres - F Kyle Okposo
Calgary Flames - F Matt Stajan
Carolina Hurricanes - F Jordan Staal
Chicago Blackhawks - G Jeff Glass
Colorado Avalanche
Columbus Blue Jackets - D Zach Werenski
Dallas Stars - F Mattias Janmark
Detroit Red Wings
Edmonton Oilers - D Adam Larsson
Florida Panthers - G Roberto Luongo
Los Angeles Kings - F Dustin Brown
Minnesota Wild - F Matt Cullen
Montreal Canadiens - G Antti Niemi
Nashville Predators - F Austin Watson
New Jersey Devils - F Brian Boyle
New York Islanders - F Josh Bailey
New York Rangers - F Chris Kreider
Ottawa Senators - D Mark Borowiecki
Philadelphia Flyers - F Claude Giroux
Pittsburgh Penguins - D Kris Letang
San Jose Sharks - F Joe Thornton
St Louis Blues - G Carter Hutton
Tampa Bay Lightning - F Steven Stamkos
Toronto Maple Leafs - D Roman Polak
Vancouver Canucks - F Derek Dorsett
Vegas Golden Knights - D Brad Hunt
Washington Capitals - F Devante Smith-Pelly
Winnipeg Jets - D Tyler Myers