Jays shut down Borucki with elbow tightness
The Toronto Blue Jays are being cautious with Ryan Borucki to start spring training after the left-hander complained of elbow tightness in his throwing arm earlier this week.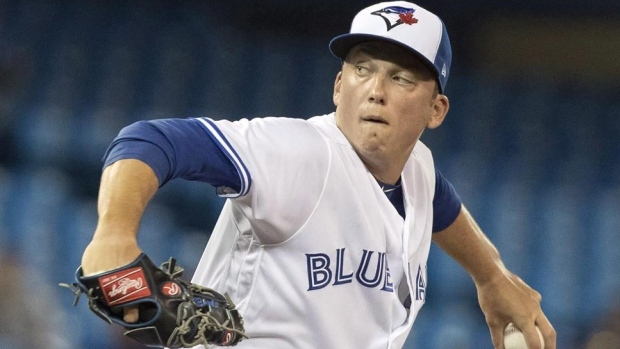 DUNEDIN, Fla. — Ryan Borucki knows what it's like to have an elbow issue snowball into a bigger problem.
So when the Toronto Blue Jays left-hander experienced tightness in his throwing arm before spring training even officially started, he let head trainer Jose Ministral know about it right away.
"It's February, I don't really want to push myself and hurt myself like I did last year mid-March and have to sit out the rest of the whole season again, so I just wanted to speak up," Borucki said Friday. "Me and Jose have a really good relationship and I can be pretty honest with him and how I'm feeling and he's very honest with me.
"It's just one of those things that we both agreed that it's good to take a couple days off and ramp back up when I'm feeling good."
Borucki said he felt the tightness while playing catch "a couple weeks ago" but expects to be ready to throw again after taking the next week off.
The 25-year-old Borucki dealt with elbow problems all of last year — beginning at spring training — and made just two starts in the majors in 2019 before having surgery on the elbow to remove bone spurs in August.
He also needed Tommy John surgery while in the minor leagues in 2012, forcing him to miss the entire 2013 season.
Borucki doesn't believe his current issue is the same as the one that held him from action for most of 2019.
"It's nothing like last year, I know the difference between those kinds of things," he said. "It's just going to be one of those things where it's going to be five, six days rest and ramp back up. It should be pretty minor."
General manager Ross Atkins said Borucki underwent an MRI that revealed "it's just tightness."
"I think mostly at this point we're going to be cautious," Atkins said. "Any time that someone feels tightness, and at this point in the game, it's smart to do that."
Borucki had success in his rookie season in 2018, pitching to a 3.87 earned-run average through 17 starts (97 2/3 innings) with 67 strikeouts and 33 walks.
Atkins didn't rule out the possibility of moving Borucki to the bullpen at some point in the future in an effort to lessen his workload during a season.
That's not a move the team is considering right now, though.
"We talk about that with every pitcher and it's more based on how they've developed, what roles they've had success in, their interest and desires, and we're always thinking about putting guys in positions to have success," he said.
"It's not something that's on the table to make a decision today," Atkins added. "Today we're focused on him getting back to 100 per cent strength."
Borucki said the team hasn't approached him about a possible move, but he's clear about where he envisions himself on the roster.
"This off-season I got my body ready to pitch for a full season. As of right now I'm a starter, I've always been a starter and I want to continue being a starter," he said. "I feel like I'm better suited to start and go deep into games.
"I'm more of a kinda ease into stuff and work through the game more than just coming out as hard as I can. So as of now, starter but we'll see where it goes."