Another 30-point game from Allen leads Sea Bears past Bandits
​A 14-2 run late in the third quarter helped the Winnipeg Sea Bears secure a regular season sweep of the Vancouver Bandits with a 90-79 win at Langley Events Centre on Sunday.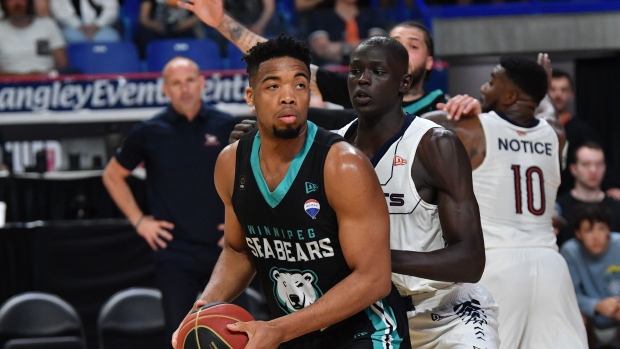 A 14-2 run late in the third quarter helped the Winnipeg Sea Bears secure a regular season sweep of the Vancouver Bandits with a 90-79 win at Langley Events Centre on Sunday.

The Sea Bears now need one more win or a Calgary Surge loss to clinch first place in the Western Conference ahead of the CEBL Playoffs.

Winnipeg star Teddy Allen led the team to victory with a game-high 34 points. He also notched a double-double with a team-best 13 rebounds to go along with four assists and four steals.

"[Allen]'s talented and he takes the pressure off a lot of our other guys. Whenever we need a bucket, whenever we need a play – he's there to ready be a threat," Winnipeg head coach Mike Taylor said.

The team's other top 10 scorer, EJ Anosike, also finished the game with a double-double. He scored 12 points– including the game-winning dunk–and grabbed 10 boards.

The Sea Bears' also received key contributions from point guard Glen Yang and sharpshooter AJ Hess. Yang had an all-around outing with 15 points, nine rebounds, five assists, three steals and a block. Meanwhile, Hess let loose from long range, shooting 5-14 from deep on his way to 16 points.

"We really kept our energy-level defensively consistent," Taylor said. "We didn't really shoot the ball well throughout the game…but the guys found a way today."

On the other side, Bandits' big man Nick Ward powered the offence and dominated the glass with a double-double himself. Ward scored 22 points and hauled in a game-high 14 rebounds in the loss before he fouled out in target score time.

"If you look you look at our bench, we had five frontcourt players ready to play," Taylor said. "So 25 fouls. We knew this was going to be a battle of attrition. He's so big and physical."

Duane Notice was busy on both ends for the Bandits. He shared Teddy Allen duties on defence with Shaquille Keith and was the only other Bandit to reach double-digit points. He netted 19 points on 7-11 shooting from the field and 5-6 from three.

The Bandits gave up 18 offensive rebounds in the loss and turned the ball over 18 times. Both teams struggled from the field, with neither exceeding 33 per cent.

"I thought the amount of offensive rebounds we gave up [and] the way we were helping off shooters non-stop was really tough to understand since we worked really hard on not doing that," Vancouver head coach Kyle Julius said. "It's one of the things that we discussed the last couple of days. .. I thought our attention to detail as a team was bad."

The two teams traded blows early but Winnipeg's shooters got off to a good start in the first quarter. Hess and Allen each drilled a pair of early triples to provide the Sea Bears with a lead. An and-one from Keith made it a one possession game, but the Sea Bears closed the quarter on a 9-2 run to take a 26-17 lead after 10 minutes.

Alex Campbell opened the second quarter with a trifecta for Vancouver to cut the deficit to six. However, the Sea Bears went on another 9-2 run that heavily featured Allen and forced a Julius timeout. Out of the timeout, the Bandits punched back with a pair of threes from Diego Maffia along with a pullup and an acrobatic finish from Campbell.

The duo of Allen and Anosike stole the momentum with a layup each to put the Sea Bears back up seven. The quarter ended with a stretch of free throws for both teams and Winnipeg ahead 42-38.

Allen controlled the first half for Winnipeg with 21 points and six rebounds – on pace to tie the single-game record for points he already shares with Brandon Sampson. However, both teams struggled from the field after 20 minutes with Vancouver shooting 32 per cent and Winnipeg 30 per cent.

Early in the third quarter, Ward tied the game at 42. From there, the teams exchanged blows and changed leads four times. However, the Sea Bears closed the quarter strong after regaining the lead. Winnipeg went on a 14-2 run to match their largest lead of the night at the time and take a 67-54 advantage into the final frame.

The Sea Bears extended their lead to 17 early in the quarter, but an and-one from Ward and a corner three from Notice forced a Taylor timeout. Winnipeg was able to keep Vancouver from making a run and carried an 80-66 advantage into target score time.

Marek Klassen connected on a stepback three to kick off target time and Ward cut the deficit to 10 with a free throw. However, Winnipeg pulled closer to victory with a floater from Allen and a three from Hess. Vancouver prolonged the contest with some outside shooting and strong defence, but Anosike slammed a two-handed dunk to end the game.

Winnipeg improves to 12-7 on the season and stay in first place in the West, while Vancouver drops to 6-12.

The Bandits will hit the road for matchups with Ottawa and Scarborough later this week to close the regular season. Meanwhile, the Sea Bears will close out their regular season at home against the Edmonton Stingers next Saturday.