Bandits looking for second consecutive win in their regular season finale against Shooting Stars
The Vancouver Bandits (+118) finish up their 2023 campaign on the road as they visit the Scarborough Shooting Stars (-160) on Sunday night from the Toronto Pan Am Sports Centre with tip-off set for 7:00 pm ET.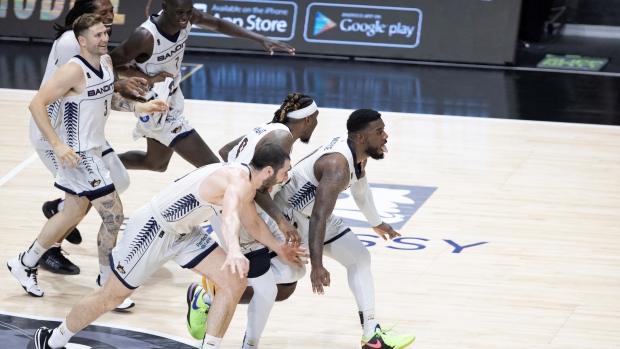 The Vancouver Bandits (+118) finish up their 2023 campaign on the road as they visit the Scarborough Shooting Stars (-160) on Sunday night from the Toronto Pan Am Sports Centre with tip-off set for 7:00 pm ET.
It will be available for streaming live on TSN+, CEBL+ powered by BetVictor, and on the CEBL Mobile app available on iOS and Android devices.
This will be the first and only regular season matchup between the cross-conference opponents, and their first since the two squads went head-to-head in July of last year. It was Scarborough, in their inaugural season, that ended up with the edge in the season series against Vancouver in 2022, winning two out of three games.
The Bandits are heading into this contest on the heels of one of their most impressive wins of the season, as the squad picked up a narrow 90-89 victory over the Ottawa BlackJacks. Not only bumping the top team in the East into second place, but also handing them their third loss in a row.
It was Duane Notice's heroic game-winning triple that gave the Bandits their second win in their last five outings, but it took a team effort to bring them to that point. Seven of the eight players that checked-in for the team put up eight or more points, unsurprisingly led by the forward duo of Giorgi Benzhanishvili and Nick Ward.
Benzhanishvili tallied an 18-point, 11-rebound double-double, while Ward added a game-high 25 points and grabbed seven boards of his own.
The pairing continues to be top contributors for Vancouver, both as scorers and for their work on the glass. Leading the CEBL's best rebounding squad (43.2 RPG), their work securing the ball has been the team's strength all season, and that didn't change Thursday as the Bandits grabbed four more boards than the BlackJacks.
Their efforts also earned them a +5 edge on offensive rebounds and +7 advantage on second chance points. Vancouver's rebounding prowess also allowed them to dominate the interior as they shot an efficient 55 per cent from two-point range and ended the night +30 on points inside the paint.
Fans should keep an eye out for a glass battle as the Shooting Stars are also a top-five rebounding team (40 RPG) and will give the Bandits a good test before both teams head into the post-season.
Most notably, Scarborough will hope for a big game from Kalif Young. Like Ward (7.8 RPG) and Benzhanishvili (9.0 RPG), the big man is a top-ten rebounder in the league (7.7 RPG) and will likely be fighting in the paint against Vancouver's duo all night. In Scarborough's latest outing the forward did a bit of everything on route to a double-double as Young notched 13 points, 10 rebounds, and two blocks.
Despite the big man's valiant effort, the Shooting Stars still took a 103-86 loss to the defending champion Brampton Honey Badgers and snapped a three-game win streak as a result. Tonight's contest was also meant to be Scarborough's regular season finale, but after their game on Friday was rescheduled to July 31, it will now be the first of a back-to-back set instead.
In said defeat, the team held their own in most statistical categories against Brampton, but they struggled mightily from beyond the arch. Scarborough made just two triples on a 10 per cent clip, ending up a -18 on points from distance as a result. Their poor shooting, mixed with a major 22-8 run surrendered in the third quarter is what ultimately led to their first loss in four games.
There were some positives for the Shooting Stars to take from the game, as they actually led in scoring through the first, second, and fourth quarters, and if it weren't for the lopsided third, they would've had a shot at making it four wins in a row. The squad will look to put together a full 40-minute performance as they try to get back in the win column.
Fans of Scarborough should also keep their eyes on Cat Barber, as the team's top-scorer is only seven points away from reaching the 1000-point mark for his career in the CEBL. If he reaches the milestone tonight, he'll be the second player ever in league history to get there, doing it only two days after his former teammate Ahmed Hill did it.
In terms of playoff implications, as host city, Vancouver is locked into a spot at Championship Weekend, so a win or loss won't change much for positioning but can help them gain some momentum heading in.
The Shooting Stars have already clinched a playoff spot as well, but the team has a chance to make their path to a second-straight finals appearance easier if they win out to end the season. If Scarborough can win both of their final two games, they would leap over the BlackJacks for second in the East, avoiding the play-in as a result.