Honey Badgers clinch playoff berth in win over Shooting Stars
Shamiel Stevenson's 28-point performance led the Brampton Honey Badgers (8-10) as they secured a 2023 post-season spot with a dominant 103-86 victory over the Scarborough Shooting Stars (10-8) on Wednesday.
Zulfi Sheikh, Media Release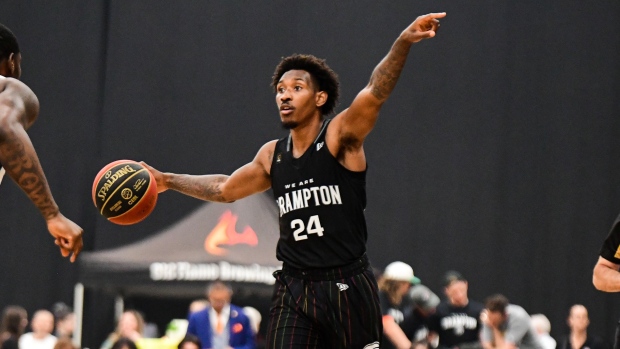 Shamiel Stevenson's 28-point performance led the Brampton Honey Badgers (8-10) as they secured a 2023 post-season spot with a dominant 103-86 victory over the Scarborough Shooting Stars (10-8) on Wednesday.
The Toronto, Ontario, native easily passed his previous season-high mark of eight points in his first start with Brampton, doing so on route to a double-double with 10 rebounds as well.
"My teammates and coaches put the ball in my hands," said Stevenson post-game. "They believed in me and gave me the confidence to be aggressive…I just attacked, and it was working."
His outing wasn't the only double-digit effort from the Honey Badgers as all five starters put up 10 or more points. The team's points per game leader on the season, Christian Vital was Brampton's next best scorer, finishing the night with 22 points, six rebounds, and three steals, on better than 60 per cent shooting from the field and distance. Meanwhile Koby McEwen, Zane Waterman, and Prince Oduro put up 15, 13, and 10 points respectively.
Kyree Walker led the way for Scarborough as their three-game win streak came to an end, tying his season-high with 19 points while also tallying two steals and two blocks. Kalif Young did his part by way of a double-double performance of his own, via 13 points and 10 rebounds, while Cat Barber was the team's second-leading scorer on the night, notching 17 points, seven rebounds, and five assists.
The guard is now at 993 career points in the CEBL, seven away from being the first player in league history to reach the 1000-point mark.
It was a milestone night for Brampton, as they set an attendance record with 3,451 people at the CAA Centre, and the crowd was treated to a back-and-forth affair throughout the first quarter of this contest. The Honey Badgers showed out for their home fans as they got out to an early nine-point lead, thanks to a 10-1 run sparked by back-to-back Waterman triples.
However, with his team down 17-10, Scarborough head coach Chris Exilus wisely called a timeout to try and stop Brampton's momentum. His strategy worked as the Shooting Stars came out of the huddle ready with a response, finishing the frame on an 8-3 run as they brought the game to 20-18 headed into the second.
Chaundee Brown Jr. entered the night averaging 26.5 points through his first two games with Scarborough and was well on his way to another big scoring night as he put up nine points through two quarters. His most important basket to that point was a three-point play he converted at the 1:46 mark of the second that gave the Shooting Stars their first lead since it was 5-4 early in the first.
Despite the forward's strong play, his efforts weren't enough to keep up with the guard-forward duo of Stevenson and Waterman for Brampton. The pairing scored a game-high 10 points each, at the half, as they helped the Honey Badgers grab their lead back, up 45-44 at the break.
When the third quarter got underway, it became evident that Stevenson had more to offer as his team tried to punch their post-season ticket. The guard started the frame red-hot, shooting 5-6 from the field as he scored 11 points throughout the quarter, sparking a 22-8 run that gave Brampton the game's first double-digit lead of the contest.
It wasn't just the Honey Badger's play on offence that helped them stay on top, it was also the work they put in defensively. They limited Scarborough to just 2 three-point baskets on a 14 per cent clip through three, an impressive feat considering it was one of Scarborough's strengths throughout their three-game win streak.
"We were just not in rhythm throughout the game offensively," said coach Exilus on his team's struggle from beyond the arch in this one. "We had a lot of pretty good looks, but they didn't all come in rhythm…you can see when we move the ball in rhythm, we usually hit those."
During that span, the Shooting Stars had been making 11 threes per game on nearly 40 per cent shooting from beyond the arch. With Scarborough's long-ball neutralized, Brampton more than doubled their opponent's scoring output in the frame as they built their lead to as many as 21 points before ultimately finishing the frame with a 77-58 lead.
The start of the fourth quarter was more of the same as Brampton went into Target Score Time holding a 24-point lead. However, facing a 94-70 deficit, Scarborough did show some fight as they outscored Brampton 16-7, bringing the deficit down to 15 points.
Unfortunately for fans of the Shooting Stars, that's as close as the squad got as Oduro put an end to the comeback by way of two shots from the charity stripe, 103-86 the final.
After starting the season-series against Scarborough 2-0, Brampton have now picked up their first win of the year against their Eastern Conference rival and will try to make it two in a row as the teams face-off for the final time this regular season, on Friday.
If they're going to continue their winning ways when they visit the Toronto Pan Am Sports Centre in two days, Honey Badgers head coach Antoine Broxsie thinks it'll come down to, "not being bored with success."
"Continue to get better every day. Nothing's going to change now that we've made the playoffs. They have to choose to be better every day, it's not rocket science. Continue to do the things that got us here."