Stingers top River Lions for first win of season
Aher Uguak's 22 points led the Edmonton Stingers (1-2) to their first win of the season, 99-94 over the Niagara River Lions (0-3) Wednesday night.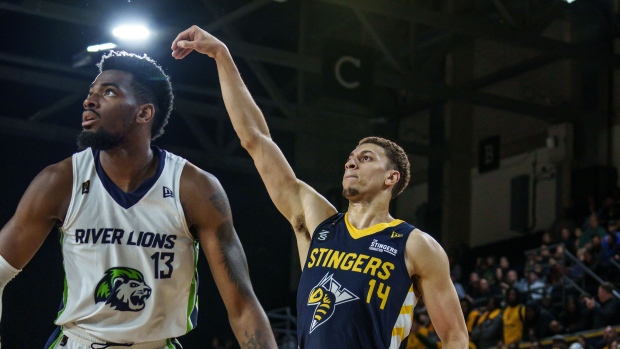 Aher Uguak's 22 points led the Edmonton Stingers (1-2) to their first win of the season, 99-94 over the Niagara River Lions (0-3) Wednesday night.
The forward had an efficient night playing in only his second game with the team while also coming off the bench. In 24 minutes, he shot 50 per cent from the field and hit five three-pointers to go along with eight rebounds and two assists.
Outside of Uguak's production, it was a full team effort to get the win, as there were six players who scored in the double-figures for Edmonton.
"It's just guys being aggressive," said Edmonton head coach Jordan Baker after picking up his first win in the CEBL. "I think against Calgary we were a little stagnant, especially towards the end. We wanted to encourage guys to be aggressive and it's not just one guy we're going to give the basketball to."
"You've got to guard all five [players] or we're going to punish you."
Forward Nick Hornsby also scored 22 points (including the game-winner) on 64 per cent shooting, while putting up three rebounds and three assists. Brody Clarke was their next highest scorer, with the forward tallying 14 points in 16 minutes of play while also grabbing six rebounds and a block.
For the River Lions, Edward Ekiyor was impressive in his 17 minutes off the bench. The forward scored 17 points, 11 of which came at the charity stripe, to go with his five rebounds and one block. Forward Antonio Davis Jr. put up 18 points and eight rebounds on the night shooting an efficient 61 per cent from the field.
The CEBL is for the most part a guard powered league. Most teams generate their offensive production through dynamic guard play, but this game flipped the script on that entirely. A majority of the scoring on the night was done through forwards who were able to score at all three levels.
The Stingers found their rhythm early and it came through the efficiency of forwards Hornsby and Uguak. Hornsby was perfect in the first frame as he put up eight points, without missing a shot, while Uguak scored six points by going 2-3 from distance and grabbing three rebounds.
Hornsby's final two points of the quarter came on a mid-range jumper right before the buzzer that gave Edmonton the 24-23 lead after one.
The second frame was as tightly contested as the first, with neither team having gained a significant lead. The Stingers did their damage through the offensive glass. They were +6 in the first half, with 10 of their 23 rebounds coming on the offensive end, generating eight second chance points.
For the River Lions, the second quarter was all about forward Antonio Davis Jr. He scored 10 of his 17 first half points in the second frame while also grabbing a team high four rebounds. His effort helped Niagara scrape out of a six-point hole that gave his team a 47-45 lead into half-time.
Edmonton was finally able to find some separation as they caught fire from distance to start the second half, where they knocked down three triples less than three minutes in. Despite struggling from distance in their first two games (20.5 per cent), the team was finally able to hit their stride from beyond the arch hitting five threes in the frame. They ended the night with 17 three-pointers made on 41 per cent shooting.
Their strong shooting helped the Stingers get out to an eight-point lead with three minutes remaining in the third quarter, but the River Lions had a response once again. Back-to-back threes from guard Lloyd Pandi and forward Tj Lall sparked an 8-0 run that tied things up at 72-72 going into the fourth quarter.
Timely scoring in the fourth, powered by consecutive threes from Hornsby and Adika Peter-Mcneilly helped Edmonton take a six-point lead with 4:17 remaining, but free-throws for Edward Ekiyor immediately after, cut it to 90-85 as they went into Target Score Time.
Edmonton came into this game struggling to overcome the mental hurdles of the Target Score dynamics. They did end up winning, but their struggles in the final frame continued. After taking a 97-90 lead, two points away from hitting the Target Score of 99, Niagara found its way back into the game with back-to-back jumpers making it 97-94.
The final basket came in unconventional fashion as a Hornsby layup attempt got hit by River Lions forward EJ Onu after it touched the glass, resulting in a goaltend to wrap things up.
Niagara came into this season as the odds-on favourite to reach the finals and win it all, but clearly haven't lived up to those expectations so far. River Lions head coach Victor Raso's message to his team coming out of this loss was clear, they have to learn from the adversity and stick together.
"We're going through the toughest stretch of our season," said Raso post-game. "You got to learn from it and keep growing. This group still has a ton of potential, I still think this group is really good, but we've gotten off to a slow start."
"If you're able to learn from it, this is the best kind of stuff you can deal with. It's early in the season, we got 17 games left…this team is going to be fine."
The River Lions will head home still looking for their first win of the season, as they take on the Saskatchewan Rattlers on June 3. The Stingers will be out of action for over a week until they take on the Ottawa BlackJacks on June 10.