Osborne sends Stingers to semifinals in Play-In win over Sea Bears
A game-winning three by Isiah Osborne in transition gave the Edmonton Stingers a 87-81 win over the Winnipeg Sea Bears on Friday night in the western conference play-in round at the Canada Life Centre.
Josh Kozelj, Media Release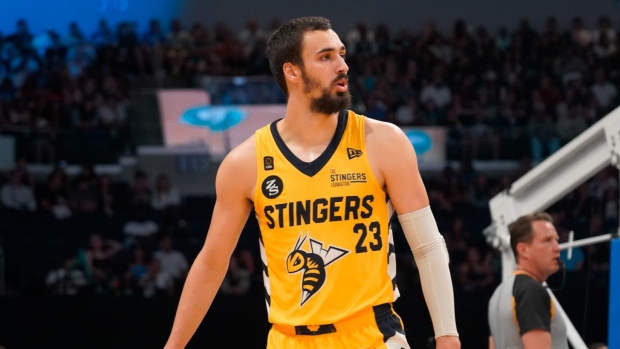 A game-winning three by Isiah Osborne in transition gave the Edmonton Stingers a 87-81 win over the Winnipeg Sea Bears on Friday night in the western conference play-in round at the Canada Life Centre.
The win, which marked Edmonton's third victory of the season in Winnipeg, also punched their ticket to the western conference semi-final—setting up a battle of Alberta in Calgary on Sunday evening.
"We held them to 16 points in the fourth quarter, so that was big for us," Edmonton head coach Jordan Baker said after the game. "It's playoff basketball time and you got to get stops to win basketball games."
Osborne's team-high 24 points helped Edmonton overcome a historic performance by Teddy Allen. Hours after Scarborough's Cat Barber set a playoff-record 32 points in a play-in win over Brampton, Allen recorded 35 points to set a new CEBL playoff record for points.
Allen also finished with 10 boards, five assists and three steals.
"Once again, Teddy was outstanding," Winnipeg head coach Mike Taylor said. "Simon [Hildebrandt] gave us 11 [points] and 11 [rebounds], gave us a big boost in target score time, but in general we didn't finish well at the rim."
Edmonton's zone defence proved effective throughout the night, as the Stingers held Winnipeg to 35 per cent shooting from the field and 27 per cent from three. And the Stingers used 32 fast break points on their way to victory.
Osborne, who shot better than 50 per cent from the field, also knocked down five threes on the night. The game-winning bucket came just a couple possessions after he missed a layup with a chance to end the game.
Jelani Watson-Gayle, who scored 17 points and three triples off the bench, responded with a three to bring Winnipeg within three points. And after Osborne turned the ball over on the next possession, it looked like the Sea Bears would claw back and tie the game.
Allen, however, missed a runner. Nick Hornsby then carried the ball up the court and found Osborne open on the left side of the arch for the game-winner.
"I missed a wide-open layup, I shouldn't have. I turned the ball over, I shouldn't have," Osborne said "But Nick made a great pass, it was a shot I shoot all the time and I had to shoot it like I usually shoot it."
Despite the final shot coming from beyond the three point line, Edmonton dominated the paint on their way to victory.
Winnipeg had a slight edge on the glass (47-44), but the Stingers shot better than 50 per cent from inside the arch and outscored Winnipeg 50-26 in the paint. Brody Clarke chipped in with 14 points and six rebounds, while Lucas Williamson scored a season-high 11 points off the bench.
Williamson came into tonight having only played three games with Edmonton this season, mustering a total of two points in under 20 minutes of action.
"It's been a long road," Williamson said. "I've been out for the past six, seven months… number one [credit] is to the training staff."
Early on, it looked like the Sea Bears would use the three pointer to overcome Edmonton's dominance inside.
Winnipeg hit five of nine three pointers in the first quarter to overcome an 8-0 Stinger run to begin the game. Six Sea Bear turnovers in the frame, however, which led to eight Edmonton points and deadlocked the game at 23 after one.
Both teams traded blows in the second quarter. At one point, Winnipeg used an 8-0 run of their own to take their biggest lead of the game (six points), but Williamson responded with an individual 7-0 run out of a timeout to bring Edmonton back.
A pair of free throws and a three pointer from Osborne capped off a 12-2 Edmonton run to end the half, resulting in a four-point Stinger lead heading into the break.
After half-time, an Allen three pointer at the top of the arch in transition brought the Sea Bears to within two points and energized the CEBL-record crowd of more than 10,000 fans in attendance.
"It was a great night here in Winnipeg, fantastic fan support," Taylor said. "The table was set for us, we had everything we needed, but give credit to Edmonton."
Allen finished with 13 of his 35 points in the third quarter.
Shane Osayande, who got the start with EJ Anosike out, tied the game with a bucket. But five straight points from Aher Uguak pulled the Stingers ahead again. Following nine lead changes over the first three quarters, Edmonton took a 66-65 lead heading into the fourth.
The Stingers then took a 77-73 lead into target score time. U SPORTS rookie Simon Hildebrandt tried his best to pull Winnipeg ahead: drilling a three, drawing a charge, and hitting a jumper to pull the Sea Bears within one.
"It was a fantastic opportunity with this organization and they had faith in me to go out there and make those plays," Hildebrandt said.
But Hornsby's first three pointer of the night brought Edmonton to within a bucket of victory, which ended a few possessions later on an Osborne long ball.
With the victory, Edmonton will travel to Calgary for their fifth matchup of the season against the Surge. Tipoff is slated for 9:00 p.m. ET/7:00 p.m. local on Sunday.