BlackJacks, Shooting Stars grapple for spot in Eastern Conference Final
A trip to CEBL Championship Weekend is on the line on Sunday night in the Eastern Conference Semi-Final between the two-seed Ottawa BlackJacks and three-seed Scarborough Shooting Stars, slated for 7 p.m. ET at TD Place.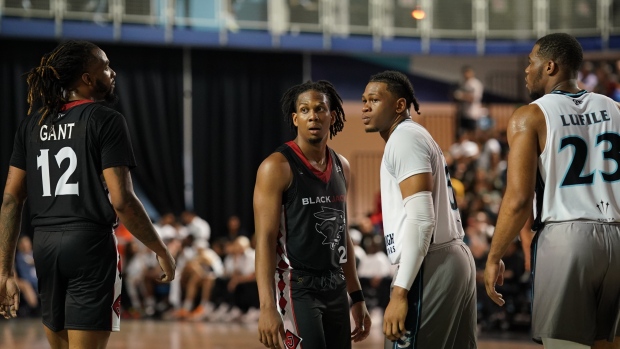 A trip to CEBL Championship Weekend is on the line on Sunday night in the Eastern Conference Semi-Final between the two-seed Ottawa BlackJacks and three-seed Scarborough Shooting Stars, slated for 7 p.m. ET at TD Place.

The game will be live on TSN and available for streaming on TSN+, CEBL+ powered by BetVictor and on the CEBL Mobile app available on iOS and Android devices.

Ottawa holds a 2-1 advantage in the three previous meetings between the two teams this season.

The BlackJacks won the first game on opening weekend 93-82 but the Shooting Stars bounced back on their home court with an 85-83 victory. On July 14, Ottawa defeated Scarborough 88-79 at Toronto Pan Am Sports Centre to pick up their eighth straight win.

However, that was the BlackJacks' last win of the regular season. Ottawa faltered to close the campaign with three consecutive losses after their eight-game win streak.

The BlackJacks wrapped up their season with a narrow one-point loss to Vancouver, the Championship Weekend hosts. However, Ottawa still boasts one of the best offences in the league.

The team is the most efficient at shooting the ball in the CEBL at 47 per cent from the field and 38.7 per cent from three. Ottawa ranks third in points per game at 88.4 and dishes more assists on average than any other team in the league.

Headlining the BlackJacks' attack is the do-it-all duo of Kadre Gray and Deng Adel.

Adel is coming off a 28-point performance against the Bandits and ranks in the CEBL's top 10 in points per game, defensive rebounds per game and assists per game. He averages 17.5 points, 5.8 rebounds, 4.4 assists, 0.8 blocks and 1 steal on 49 per cent shooting from the floor, 38 per cent from three and 75 per cent at the line.

Meanwhile, Gray has been one of the league's best facilitators this summer. The Canadian point guard averages 16.2 points per game on an efficient 50-43-81 shooting split to go along with a league-best 6.3 assists and 1.3 steals.

However, the BlackJacks will be without Jackson Rowe for Sunday's contest. He was a key contributor during Ottawa's eight-game win streak. In 18 games played, Rowe averaged 15.3 points and 6.6 rebounds on 50 per cent shooting from the floor and 42 per cent from three.

Both the BlackJacks and Shooting Stars could be without other key players due to Canada's FIBA World Cup training camp. Ottawa's Thomas Scrubb and Scarborough's Kassius Robertson are both competing for roster spots on the national team as cuts are possible in the coming days.

The Shooting Stars succeeded despite the absence of Robertson on Friday night. After a tight start against defending champion Brampton in the Eastern Play-In, Scarborough seized control in the second half to defeat the Honey Badgers 98-74.

Cat Barber was spectacular in the clash and earned a CEBL playoff record for points with 32 and threes with seven. His single-game points record didn't last long with Winnipeg's Teddy Allen dropping 35 later that night.

In three meetings with Ottawa this year, Barber had mixed results. He scored 30 points in the first game before Ottawa was able to limit him to 13 points on 5-13 shooting from the field, 0-4 from three and six turnovers in the following game. In the final meeting of the regular season, Barber had 10 points on 4-11 shooting from the field and was 0-1 from three.

Ottawa head coach James Derouin says the plan against Barber is to make him work. The BlackJacks will look to get the ball out of his hands, bring double teams, make him give it up and work to get it back.

"That's probably everybody's gameplan [against] Scarborough. We've had some success with that in the first few games, but…a fourth game is gonna be a challenge for sure," Derouin said.

Barber has been spectacular this summer. He was fourth in the league in points per game after the regular season with 20 while also ranking top-10 in steals and assists.

The Shooting Stars feature a strong supporting cast as well. Scarborough's starting five of Barber, Kyree Walker, Isiaha Mike, Kalif Young and Zeke Moore played most of Friday's game against the Honey Badgers.

Walker was incredible, dropping 25 points on 10-13 shooting. He had success against Ottawa in the last two matchups as well, scoring 17 and 16 points respectively. It will be the first time the BlackJacks face Mike this season after he notched 15 points, nine rebounds and three steals on Friday. Joining the team late, he averaged 15.7 points and 6.5 rebounds in the regular season.

"They're obviously loaded with talent," Derouin said. "We haven't had to play against Mike yet — obviously a huge addition to the team. Obviously, Barber [had] another year as an MVP candidate. Also just watching Walker and his growth throughout the season – he was spectacular last night. So they just got firepower and we're gonna have our hands full trying to stop [them]."

The interior matchup of Kalif Young and BlackJacks' big man Zena Edosomwan is also likely to be important to Sunday's result. Both Young and Edosomwan finished among the CEBL's top 10 shot-blockers and rebounders this season while shooting efficiently from the field. Young also showcased his ability as a passer in the play-in, handing out 10 assists.

Barber expects a tight matchup and a tough game, but he believes the Shooting Stars can get the job done.

"Those guys stay consistent," Barber said of Ottawa. "They never go away. They creep up on you. So [we] just got to stay consistent, rebound and run."

Meanwhile, Derouin hopes that the BlackJacks can return to their winning ways.

"We really want to get back to playing the style that we want to play," Derouin said. "I don't think it's a secret [that] we want to draw and kick out for threes …we want to get [our shooters] going from three and get back in that nice rhythm."

The winner of Sunday's game books a trip to Vancouver for CEBL Championship Weekend for the Eastern Conference Final at 8 p.m. ET on Friday (Aug. 11).