Rattlers knock off Shooting Stars in win
Justin Wright-Foreman's record-setting performance helped the Saskatchewan Rattlers (2-1) rebound from a 42-point loss last night and dispatch the Scarborough Shooting Stars (1-3) 96-84 on Sunday night.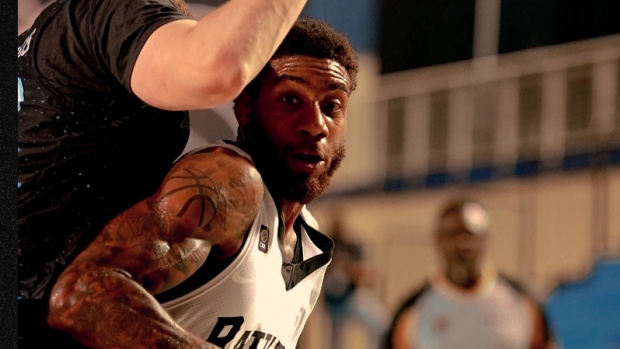 Justin Wright-Foreman's record-setting performance helped the Saskatchewan Rattlers (2-1) rebound from a 42-point loss last night and dispatch the Scarborough Shooting Stars (1-3) 96-84 on Sunday night.
Wright-Foreman collected 36 points, which set a single-game franchise record and was just 5 points off the all-time CEBL record of 42, which was tied just two days — also against Scarborough — by Winnipeg's Teddy Allen.
"It's happened to us back-to-back games," Shooting Stars head coach Chris Exilus said after the game. "[Wright-Foreman] is a high-level offensive player, we have to look at the film to see what we're doing to stop top scorers. We haven't done a good job these last two games."
Both teams came into the night looking to avenge disappointing losses in their last game.
Saskatchewan was throttled by the Niagara River Lions 116-74 last night, while Scarborough dropped a 98-93 game at home to the Sea Bears on Friday — highlighted by Allen's historic outburst.
"The night we lost, when we got into the locker room, we knew we played a horrible game," Wright-Foreman said. "Going into this game we literally had to reverse all that, we had to be the physical team, be the people who move the ball more."
As was the case two days ago, Scarborough once again started the game with an emphatic alley-oop, with Cat Barber connecting on a lob with Kalif Young in the game's first minute.
However, Saskatchewan never trailed by more than two points and led wire-to-wire on the night.
Wright-Foreman scored 8 of his 36 points in the first quarter, and the Rattlers used second chance points to jump out to an early lead.
Both Saskatchewan and Scarborough hit the offensive glass hard, recording 4 and 3 offensive boards respectively in the first. But it was the Rattlers who turned those rebounds into points — as they totalled 9 second chance points to just 4 by Scarborough.
Alongside Wright-Foreman, sixth man Michael Nuga was once again a spark off the bench for the Rattlers.
The Toronto native tallied 14 points, shot 45 percent from the field, and collected 6 rebounds. 12 of those points came in the first half, as Nuga used an explosive first step — reminiscent of Scarborough's Cat Barber — to get to the hoop and jumpstart transition opportunities.
"He brings Nuuuuga juice," Saskatchewan head coach Dean Demopoulos said.
"He brings a lot to the team. He brings the ability to understand roles, he's got multiple roles on this team, and I think he's got a chance to be a really, really fine professional basketball player."
Barber, who came into the game leading the CEBL in scoring at 25.7 points per game, was the lone bright spot for Scarborough.
Barber tallied 27 points and 6 assists. He also had 8 straight points for Scarborough to end the second quarter and make it a 44-37 game at halftime.
But while Wright-Foreman was supported by Nuga, Barber couldn't get any help from his backcourt mate Jalen Harris, who struggled to find his groove offensively.
The CEBL all-star shot just 3-11 from the field and totalled a season-low 9 points on the night.
"I thought we did a better job defensively than we had the last two games," Demopoulos said. "It was a collective effort from everyone."
After taking a 20 point lead into Target Score Time, the Shooting Stars chopped the lead in half at one point but weren't able to overcome the deficit. Saskatchewan used a Malik Benlevi hook shot to cap off the game and end Scarborough's late surge.
Benlevi ended with 16 points, while Saskatchewan's Jermel Kennedy rebounded from a poor shooting performance last night —2 points on 0-5 shooting — to total 13 points tonight.
After splitting their two-game road trip, the Rattlers will return to the SaskTel Centre on Friday night for a date with the Winnipeg Sea Bears. Scarborough, meanwhile, will look to get back on track against the Niagara River Lions on Thursday.
The Shooting Stars and Rattlers will meet up again on June 25 in Saskatchewan.