Bandits visit the rising Honey Badgers on Friday night
The Vancouver Bandits hit the quarter mark of their season by visiting the winners of three-straight, the Brampton Honey Badgers at the CAA Centre on Friday at 7:00pm ET.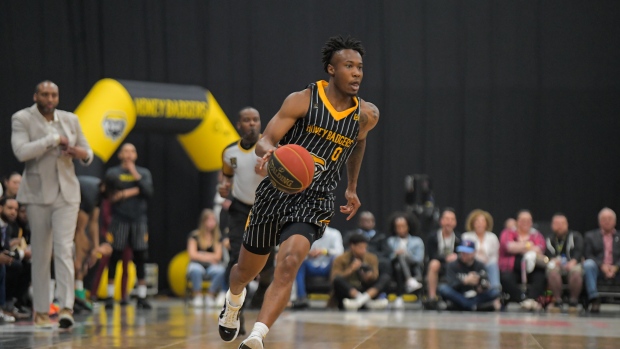 The Vancouver Bandits hit the quarter mark of their season by visiting the winners of three-straight, the Brampton Honey Badgers at the CAA Centre on Friday at 7:00pm ET.
When these teams faced-off a year ago, they played each other twice, splitting the series one each. A lot has changed since then, including their names. Formerly the Fraser Valley Bandits and Hamilton Honey Badgers, these teams will be facing-off under the monikers of Vancouver and Brampton for the first time ever.
Coming into this contest, the Honey Badgers have turned their season around after beginning things with consecutive losses. The team has won three in a row since, and in their back-to-back wins against the Montréal Alliance, Brampton looked absolutely dominant winning by an average margin of 18 points.
Their last win showcased what the team is capable of when everything is meshing. The Honey Badgers had six different players score in double figures, while the team shot an impressive 48 per cent from the field and 43 per cent from distance.
Brampton was led by their guard duo of Koby McEwen who put up 17 points and six assists, and Christian Vital who had 16 points and five rebounds. Their numbers may not jump off the page, but they're indicative of something bigger that's impacted the Honey Badgers recent success.
In their first two losses, McEwen and Vital averaged 41 points per game while accounting for 48 per cent of Brampton's scoring. However, during their three-game win streak those numbers drop to 31.3 points and just 36 per cent of the total offensive output.
In other words, the team has been winning because other players have been contributing and taking on some of that offensive responsibility. For instance, forward Zane Waterman has increased his scoring from 10.3 points a game in their two losses to 16 in their three wins. Brampton's sixth man Cody John has also seen that same bump, going from 9.3 points to 13 during that span.
Needless to say, the Honey Badgers have a strong chance to extend their win streak to four games if they can continue to get shot making from a wide variety of players.
On the other side the Bandits come into this game following a hard fought 106-103 loss to the Winnipeg Sea Bears, nearly completing a 22-point comeback in the process. Their top contributor in that game was Giorgi Benzhanishvili who put up an impressive 30-point and 11-rebound double-double. That performance increased the forward's scoring average to 20.8 points per game, the seventh highest in the CEBL so far this season.
The breakout performance from that game was Diego Maffia, who after struggling in the team's first two contests, found his rhythm. Surpassing his point total in two consecutive games, the Victoria, B.C., product put up 20 points on 54 per cent shooting.
Despite their 1-3 record, this team has made it a habit of keeping games tight and competitive, as three of their four games have been decided by five points or less. Unfortunately, they've had to fight back in all of those games after giving up significant leads. Through four games played, the Bandits have finished a quarter with a lead just three times total.
If Vancouver is going to avoid playing from behind against this high-powered Brampton offense, they can start by trying to win the turnover battle. They have yet to commit less turnovers than their opponents in any of their first four games, giving the ball away an average of 14.3 times.
Cleaning up their unforced errors and limiting the number of extra possessions being given to their opponent will help the Bandits' chances of winning their second game of the season.