Sea Bears eye one seed in visit to Vancouver on Sunday
The Winnipeg Sea Bears will look to secure a regular season sweep of the Vancouver Bandits at Langley Events Centre at 7 p.m. PT on Sunday and move one step closer to clinching first place in the Western Conference.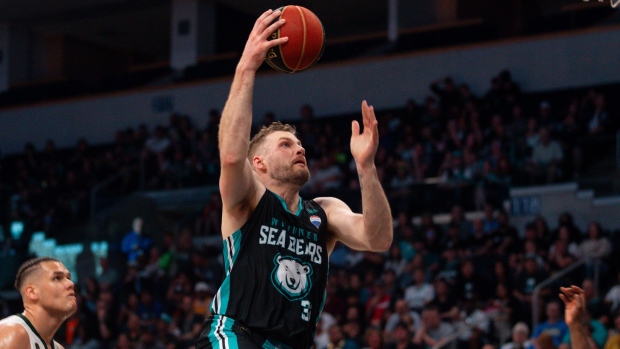 The Winnipeg Sea Bears (-118) will look to secure a regular season sweep of the Vancouver Bandits (-114) at Langley Events Centre at 7 p.m. PT on Sunday and move one step closer to clinching first place in the Western Conference.

The game will be available for streaming on TSN+, CEBL+ powered by BetVictor and on the CEBL Mobile app available on iOS and Android devices.

The Sea Bears enter the contest atop the West at 11-7 with the Calgary Surge close behind in second place at 10-8. To earn first place and home advantage for the Western semifinal, Winnipeg would clinch first with either wins in both their final games, one win and a Calgary loss, or two Surge losses.

Ahead of the final two games of the regular season, Winnipeg head coach Mike Taylor says his squad has to be locked in for the game against his former team on Sunday.

"It's just about teamwork… and showing up being ready to compete physically," Taylor said after the loss to Calgary on Thursday. "We know the Bandits are trying to get themselves right before the Championship Weekend and we know that's going to be a challenging game. So we've got to focus on our performance and play a lot better than we played tonight."

With two intra-conference games remaining for both Calgary and Winnipeg, each team has seven wins against Western opponents. However, the Surge have the head-to-head advantage over the Sea Bears after defeating them at home earlier in the week.

Meanwhile, Vancouver enters the game in fifth place in the West at 6-11 on the season after snapping a five-game losing streak with a win over Edmonton on Friday night.

"Believe it or not, we got an optimistic group," Bandits' veteran Alex Campbell said after a 20-point performance against the Stingers. "We [were] bleeding out a little bit, but today feels good to stop the bleeding and get a win. [It's] just about building obviously towards championship weekend now."

The Bandits enter the final week of the regular season less stressed than other teams in the league. They have a spot in the Western Conference Final secured by hosting CEBL Championship Weekend from August 11-13.

"We only have to win one game," Vancouver head coach Kyle Julius said. "That's been the conversation all season long is just figuring out how we can get better day by day, so we are sharpest for that particular day."

Winnipeg boasts two of the league's best scorers, Teddy Allen and EJ Anosike. Allen is second in the CEBL in scoring at 26.6 points per game and leads the league in minutes. He's also in the top 10 in rebounds per game at 7.5 and three-pointers made at 60.

Allen is coming off of a 14-point performance against Calgary where he was ejected in the third quarter after picking up his second technical foul. Julius says the Bandits will have to be careful with their approach to guarding the Sea Bears' star.

"We have a plan…maybe we don't show it though," Julius said. "Maybe we see those guys on [Championship Weekend]. So we're trying to go out of our way to be pretty generic against teams we think we might see on the 11th. We have that advantage."

Outside of Allen, Anosike is sixth in the league in points per game at 18.4 and second in total offensive rebounds at 60 behind teammate Chad Posthumus. Jelani Watson-Gayle is a candidate for Sixth Man of the Year as well with 13.1 points off the bench and a league-best three-point percentage of 50.

While the Sea Bears feature the league's most efficient three-point shooter, the Bandits have the most effective player from the field. Big man Nick Ward enters Sunday's contest as the CEBL leader in field goal percentage at 62.1. He also averages a team-high 17.6 points per game, to go along with 7.5 rebounds per game.

He's joined in the frontcourt by Giorgi Bezhanishvili and recent acquisition Marlon Johnson Jr. Bezhanishvili is just behind Ward in scoring at 16.6 points per game while grabbing nine rebounds per game. The Bandits also receive contributions from Campbell and veteran guards Doug Herring Jr. and Malcolm Duvivier.

Vancouver also signed point guard Marek Klassen on Saturday to join the team for the remainder of the season. Klassen, a homegrown talent from Abbotsford, is the franchise leader in assists and will provide some flexibility for the Bandits as a Canadian point guard with an international-heavy frontcourt.

"We have some weapons and if we're hitting on all cylinders like we were in that first half [against Edmonton], I think will be a tough out for anybody on that final weekend," Julius said.

The Sea Bears won the previous meetings with Vancouver this season. In their inaugural game at home, they defeated the Bandits 90-85 and followed that up with a 106-103 win at Langley Events Centre early in June. They knocked off Vancouver again on June 21 at Canada Life Centre by a score of 93-84.

"I think it's been really difficult this year to play and to kind of keep everybody working with a sense of urgency, knowing that you have that free pass," Julius said. "It's been even embarrassing at times. I think now that it's getting closer to that time, we're kind of settling in."

It's the final home game of the regular season for the Bandits, who will hit the road for matchups with Ottawa and Scarborough later this week. The Sea Bears will close out their regular season at home against the Edmonton Stingers next Saturday.