Canadian Elite Basketball League begins season five on TSN
The Canadian Elite Basketball League returns for its fifth season on Wednesday with a belief that the best is yet to come.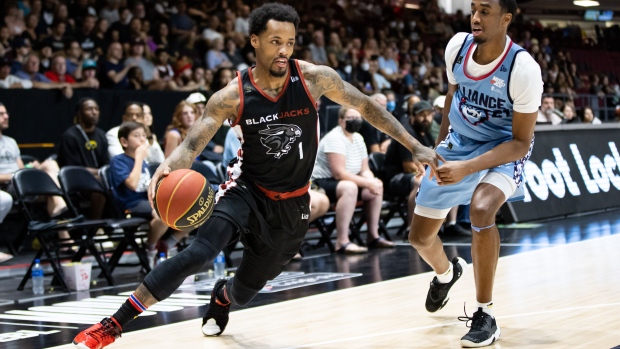 The Canadian Elite Basketball League (CEBL) returns for its fifth season on Wednesday with a belief the best is yet to come.
Action begins in the nation's capital where the Ottawa Blackjacks host the defending champion Brampton Honey Badgers who relocated from Hamilton, Ont., following the 2022 campaign.
Watch Brampton Honey Badgers vs. Ottawa Blackjacks LIVE Wednesday at 7:30 p.m. ET/4:30 p.m. PT on TSN4/5, TSN.ca and the TSN App.
A whirlwind off-season featured a string of major announcements that were intended to balance the league geographically and establish franchises in bigger markets.
The Vancouver Bandits, who will host Championship Weekend at the Langley Events Centre in August, are joined in the Western Conference by the Calgary Surge who relocated from Guelph, Ont., the expansion Winnipeg Sea Bears, the Edmonton Stingers, and Saskatchewan Rattlers.
Along with the Blackjacks and Honey Badgers, the Eastern Conference also includes the Scarborough Shooting Stars, Niagara River Lions, and Montreal Alliance.
The CEBL also announced the indefinite suspension of operations for the Newfoundland Growlers.
For Mike Morreale – the CEBL's co-founder, CEO, and commissioner – every decision is made with the long-term health of the 10-team league in mind.
"We're just scratching the surface," Morreale told TSN. "We have started to kind of live out what the plan was and that is expansion, finding new owners for existing teams, finding new markets, becoming just a bigger, more powerful league that can do more and that represents Canadian basketball at the highest levels.
"That's all part of it. Being able to have that runway to do those things is really important."
Morreale has always envisioned marketing the CEBL to a global audience and becoming a household name for basketball fans.
"It's not like the old days where nobody knew what was going on," Morreale said. "Major media outlets are carrying us and what's going on around us on a regular basis.
"So, I feel like people understand us, they know us now. We have got to a level where obviously we have to be and continue to be professional and even more professional as we grow. But I think that we've at the very least now become a known entity."
Each roster carries 10 active players with a requirement that six are Canadian. Furthermore, two Canadians must be on the court for each team at all times.
Teams can also carry up to three American players and one international player.
The roster composition allows for the development of homegrown talent, but there is an even bigger picture in mind for Morreale.
"The goal is to develop Canadian talent, but also raise the bar for Canadian basketball," he said.
"Not necessarily the national federation – although we do have a tremendous partnership with [Canada Basketball] – but the aspiration of minor basketball and club basketball and prep basketball, like a pathway. No different than the CFL is a pathway for me and the other players that went through the [Canadian university] system. It's really about the overall growth of basketball. We win if we're doing our best for basketball in general."
Morreale says fans in each market can expect to see a "high-class production" with "high-class talent" and players who are serious about advancing their professional basketball careers.
"What makes our players special is that they're here for a reason," Morreale said. "They're not here to kill time and drink beers in the summer. They're here because they are still living out their basketball journeys.
"That could include the NBA. That could include the G League. That could include major teams overseas. So that part is important. The difference from 2019 – year one to now, or even the last couple of years –is not necessarily the talent. The talent has gotten tremendously better, but it's the type of player we attract. We attract good, quality people that are here to play basketball and advance their careers."
Morreale will be in Ottawa on Wednesday and will travel extensively between markets over the course of the 20-game regular season to oversee an enjoyable experience for fans and provide support to the teams and owners.
But after an off-season full of changes, expansion, and relocation, Morreale says the markets he has put in place are here to stay.
"I don't want the growth to be interpreted as 'These guys change every year,'" says Morreale. "That is not the plan and not what we're doing.
"I'm very comfortable where we are now and where we're heading and that doesn't involve any more changes. We did those changes this off-season on purpose because we didn't want to keep making changes. We know who we are now and now we just have to build within that framework."